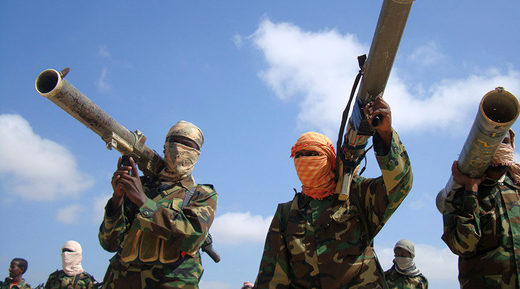 A Maryland man has admitted he traveled to Africa to join an Islamic terrorist organization and fight on their behalf. The Somalia-based Al-Shabaab have been linked to more than a thousand deaths this year with the goal of implementing Sharia law.
Maalik Alim Jones, 32,
pleaded
guilty to three criminal counts before US District Judge Paul Gardephe Friday, according to the US Attorney's Office for the Southern District of New York.
Jones pleaded guilty to one count of conspiring to provide material support to Al-Shabaab, one count of conspiring to receive military training from a designated foreign terrorist organization, and one count of possessing, carrying, and using a machine gun and other destructive devices during and in relation to a crime of violence.
Jones admitted to knowing that Al-Shabaab, which is allied with Al-Qaeda, is a designated terrorist organization that engages in terrorism.
"I knew that my actions were a violation of the laws of the United States," Jones said, according to
Reuters
.
Al-Shabaab has been described as the most lethal militant Islamist group in Africa by the Pentagon-supported
Africa Center for Strategic Studies
, which linked the terrorist organization's activities to 1,831 fatalities in the first half of 2017.
Al-Shabaab, with the ultimate stated goal of imposing Sharia law in Somalia, has also claimed responsibility for several suicide bombings, including five simultaneous attacks on government, Ethiopian, and United Nations facilities in 2008.
According to the
charges
, Jones left the US in 2001 to join Al-Shabaab. Over the next four years, Jones received "military-type" training from Al-Shabaab and engaged in armed conflict with the Kenyan Government on behalf of the terrorist organization. Jones admitted to carrying an AK-47 assault rifle
"on multiple occasions,"
as well as rocket propelled grenades (RPG).
"As he admitted in court today, Maalik Jones traveled to Somalia, was trained by al Shabaab in the use of an AK-47 and rocket-propelled grenades and took up arms for four years as a terrorist fighter," Acting US Attorney Joon Kim said in a statement. "For his allegiance to this lawless, terrorist organization that vows to destroy America and its values, Maalik Jones been held to account in an American court of law. All that is left is for him to be sentenced for his crimes."
Jones, who has been detained since his arrest in 2015, is scheduled to be sentenced in January, 2018.
As a part of his plea, Jones agreed not to appeal any sentence that is less than 50 years, according to Reuters. He faces a maximum sentence of life in prison.