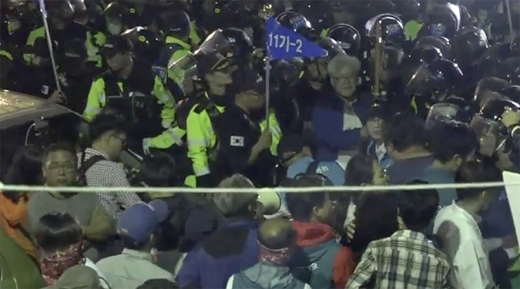 Residents of the South Korean province of Gyeongsangbuk-do have taken to the streets objecting to the local installation of the Terminal High Altitude Area Defense (THAAD) system. Hundreds of protesters confronted police, the Yonhap news agency reports.
Nearly 400 people showed up in front of the community's administrative building to protest the deployment of the advanced US missile defense system. The standoff occurred near the future site of the rocket launchers at the US base in Seongju, some 300 kilometers (135 miles) southeast of the capital.
Injuries have been reported among the residents, as police officers tried to scatter the crowd. The protesters
reportedly
tried to break into the administration building.
Live footage shows riot police officers and villagers in their droves crowding into a small area. Local media reported it was difficult for medical staff to get to the injured.
According to
the Newsmin website, the residents have been gathering since 3:15pm local time, with no major disturbances breaking out.
Four civilians tried to cross the fence of the THAAD site. Those arrested have been taken to Kimcheon police station for investigation.
The protest and scuffles followed an announcement by the South Korean defense ministry on Wednesday that the batteries will be installed as soon as Thursday.
Designed to protect South Korean and American troops from the unpredictable Northern neighbour, THAAD's deployment has been sped up because of the growing threat from Pyongyang.
The decision came despite longstanding protests of villagers and political activists, who fear the deployment will further escalate the crisis on the peninsula and make their town a primary target for the North's attacks.
On Sunday, North Korea tested an underground hydrogen bomb, which can be mounted on an intercontinental ballistic missile, prompting the international community to condemn the blast as a "dangerous provocation." While the US insists that it is time to impose "the strongest possible measures," Moscow and Beijing are calling on both sides to consider the double-freeze plan, which would imply Pyongyang suspending its missile tests in exchange for a halt in joint US-South Korea drills.