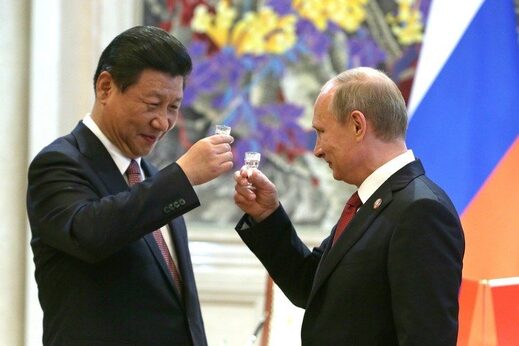 China and Russia remain committed to peace.
Vladimir Putin and Xi Jinping, the Presidents of Russia and China, respectively, have met during the BRICS summit in Xiamen and pledged to hold firm to the so-called 'double-freeze' plan to ease tensions in Korea which was first drafted in May of this year during a series of bilateral meetings between Russian and Chinese officials from the public and private sectors in Moscow.
A report from Xinhua states:
"The two leaders agreed to stick to the goal of denuclearize on the Korean Peninsula and keep close communication and coordination to deal with the new situation."
Earlier the Foreign Ministries of Russia and China released statements affirming a joint commitment to de-escalation on the Korean peninsula.
The statement from Russia read as
follows
:
"We express our deep concern at test of a "thermonuclear explosive device for an intercontinental ballistic missile" announced by the DPRK on September 3.

This yet another example of Pyongyang's outright disregard of the demands of respective UN Security Council resolutions and international law deserves absolute condemnation.

We cannot but regret the fact the DPRK leadership is creating grave threats to peace and security on the Korean Peninsular and the whole region by its actions, which are aimed at undermining the global non-proliferation regime. The continuation of this line is fraught with grave consequences for the DPRK itself.

Under the unfolding conditions it is essential to keep calm and to restrain from any acts, which may lead to further escalation of tensions.

We urge all interested parties to promptly return to dialogue and negotiations, the only possible way for a comprehensive settlement of the Korean Peninsula problems, including the nuclear problem. We confirm our readiness to joint efforts in this direction, including in the context of implementing the Russia-China roadmap."
The statement from the Chinese Foreign Ministry similarly
stated
:
"Today, North Korea, ignoring the general disagreement of the international community, conducted yet another nuclear test. The Chinese government expresses its protest and strongly condemns these actions."
China further pledged to work with Russia to find a solution to reduce tensions while President Xi urged calm from all sides.