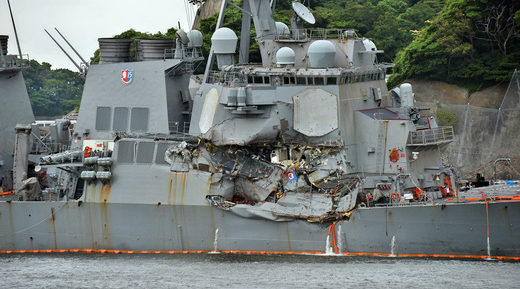 US Navy investigators have found no evidence of cyber intrusion in recent collisions of guided-missile destroyers, the USS McCain and Fitzgerald, with civilian ships in the Pacific, which led to the deaths of 17 American sailors this summer.
The US Navy looked into the possibility that the warships were hacked, but determined that it did not happen, Admiral John Richardson said during a live-streaming Facebook appearance.
Richardson was aware of the "thread of conversation" that cyberattacks could be involved in the collisions, but said, "To date, the inspections we've done show that there's no evidence of any kind of a cyber intrusion."
In August, the USS John S. McCain, a Navy guided-missile destroyer, collided with a commercial oil tanker east of Singapore, killing 10 US soldiers.
The collision tore a gaping hole in the McCain's left rear hull and flooded adjacent compartments, including crew berths, machinery, and communication rooms.
In June, The USS Fitzgerald collided with a container ship off the coast of Japan, killing seven American sailors.
"Clearly at some point, the bridge team lost situational awareness," Deputy Chief of Naval Operations Admiral Bill Moran said in August.
Investigations into the causes of the two deadly collisions have not been concluded. The Navy had previously said there is no evidence they were intentional.
However, following the McCain incident, the commander of the Navy's Asia-based 7th Fleet, Vice Admiral Joseph Aucoin, was dismissed "due to a loss of confidence in his ability to command," Admiral Scott Swift said on August 23.
A week earlier, the Fitzgerald's captain and other sailors were punished after poor seamanship and flaws in keeping watch were found to have contributed to its collision. The Navy said even though the investigation was not finished, enough details were known to take those actions.
This year, there have been
two other
accidents involving US warships in the Asia Pacific, but no injuries were reported.
"While each of these four incidents is unique, they cannot be viewed in isolation," Swift said.
The Navy is now carrying out a review of collisions and mishaps of the past decade, in an attempt to fix what Chief of Naval Operations Admiral John Richardson called a "trend."
The Navy briefly paused operations in all US fleets in August following the McCain collision.
US warships have been involved in more accidents this year than in any other year over the past two decades.