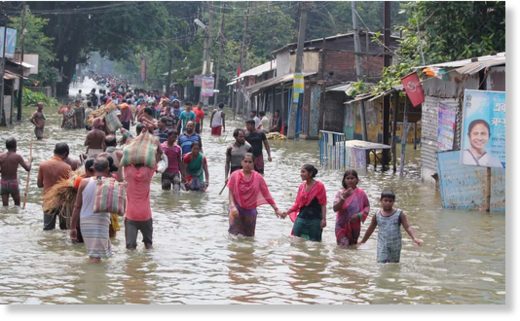 More than 24 million people have been affected by some of the worst flooding to hit South Asia in decades, with large areas of land submerged in water, the Red Cross Tuesday.
Authorities in Bangladesh, India and Nepal have put the death toll at more than 750 since August 10, when a series of deluges began spreading with the annual monsoon season.
"The situation is going from bad to worse,"
Red Cross under secretary-general Jagan Chapagain said in a statement, confirming the death toll given by regional authorities.
"Almost one third of Nepal has been flooded. One third of Bangladesh is flooded," he told reporters.

"This is the worst flooding that parts of South Asia have seen in decades."
Flood waters in the three countries have left hundreds of people stranded and entire communities cut off from road access, according to the Red Cross.
Many villages are now only accessible by boat and "are running out of food" with clean water also in short supply, the organization added.
"The number of people affected is rising by the hour as waters rush south," Chapagain said.
He added the devastating flooding has been triggered in part by the monsoons but is "also a result of the lack of proper water management," in all three countries.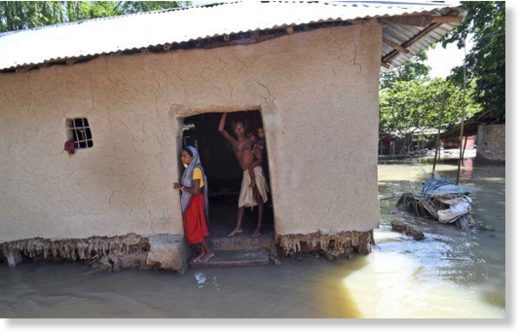 The organization has launched a 3.5 million Swiss francs ($3.6 million, 3.1 million euros) international appeal to help authorities in Nepal.
Chapagain said a similar global appeal to help Bangladesh deal with the disaster could be launched soon, while India is seen as having the resources needed to respond without foreign help.
The heavy rain has also taken a toll on wildlife, with rescue teams pulling stranded animals from raging waters in India's Kaziranga National Park, including rare one-horned rhinos and other endangered species.
Source: AFP