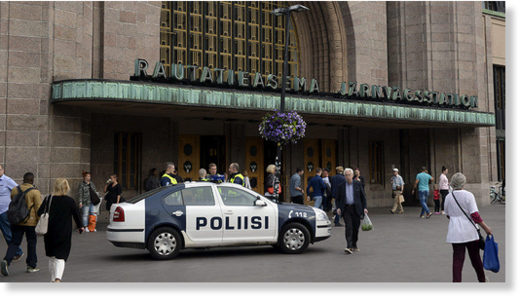 Two people died and six were injured in an attack in the Finnish city of Turku on Friday, police said.
Police said that there was currently just a single suspect in the stabbing case, adding that it was unclear if the incident was related to terrorism.
The police is searching for possible more perpetrators in Turku. People are asked to leave and avoid the center of Turku.

— L-S poliisi (@L_S_poliisi) August 18, 2017
The Turun Sanomat
newspaper reported that an elderly woman and a young boy were among the injured, citing an eyewitness.
Several persons stabbed in central Turku. Police has shot at suspected perpetrator. One person is apprehendee

— L-S poliisi (@L_S_poliisi) August 18, 2017
The witness added that another elderly woman was injured on the other side of the square where the incident reportedly took place.
Multiple ambulances are at the scene, according to the newspaper.
The outlet also reported that a body has been covered at a junction, and that police and rescue personnel are at the scene.
Finnish tabloid
Ilta-Sanomat
reported that six people were injured, one man and five women, and that a woman pushing a stroller was among those attacked by a man with a large knife.
Authorities have warned people to stay away from the city center following the attack, which reportedly took place in the Puutori-Market Square area.
According to police, security will be reinforced nationwide after the stabbing, with additional patrols deployed and surveillance boosted across Finland.
A video posted online appears to show the moments after the incident, with people running down the street. Shouting is heard in the background. The tweet reads there were apparently shouts of "Allahu Akbar" and that it is a terrorist attack. However, there has been no official confirmation.
Multiple people stabbed in #Turku by man shouting Allahu Akbar...... Another day another terror attack in Europe pic.twitter.com/Y1FrM2CEuR

— Mark (@markantro) August 18, 2017
The attack comes just one day after a van plowed into pedestrians on a popular tourist street in Barcelona, killing 13 people and injuring more than 100 others.

Hours later, terrorists launched a second attack in the seaside town of Cambrils, injuring seven people, one of whom later died. Police killed five people believed to be behind the attack.
Stabbing attacks have taken place across Europe in recent months. In late July, a knife-wielding man shouting "Allahu Akbar
"attacked
police on the Spanish-Moroccan border, injuring an officer. The suspect was immediately arrested.
An asylum seeker went on a stabbing spree at a supermarket in the German city of Hamburg that same month, killing one person and injuring several others. Hamburg State Interior Minister Andy Grote
said
the man was known to authorities as an Islamist.
In June, an attack in the London Bridge area of the British capital saw terrorists stab people at Borough Market after plowing into pedestrians with their vehicle.