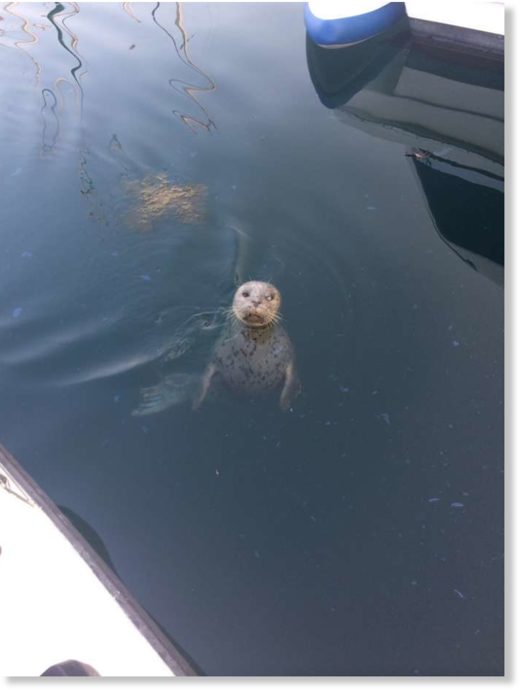 Visitors come from far and wide to see the Friday Harbor mascot, harbor seal Popeye.
But on Thursday, Gerald Balmer got an unwelcome greeting from the marina mainstay.
The 71-year-old Smokey Point resident had just finished fishing with friends and was sitting in a 24-foot boat at the Friday Harbor marina in the San Juan Islands, his arm across the top of the boat's wall.
Popeye, recognized by her blind, milky white left eye, emerged from the water and tore into Balmer's arm, about three feet above the sea.
"She just jumped up there and grabbed my arm," Balmer said.
Luckily, a registered nurse was aboard the neighboring boat and cleaned and bandaged Balmer's arm, which suffered a few deep cuts.
But he hopes that children who might visit Popeye in the future will be careful not to feed her or bait her in any way.
Popeye is a Friday Harbor tourist attraction, complete with her own Wikipedia page. She is believed to have frequented the Friday Harbor waters since 1995.
Washington state government later mandated that each of the state's ports develop an official "seal," like a logo. Port of Friday Harbor commissioners, however, took a different approach to the assignment and named Popeye the official harbor seal, complete with a granite sculpture unveiled at Fairweather Park in 2005.
This is the first such incident involving Popeye, according to officials at the Port of Friday Harbor. And indeed, Balmer wasn't doing anything to bait her.

"I wasn't feeding it, I wasn't doing anything," Balmer said. "I was just minding my own business."
But the episode is indicative of what can happen when wildlife becomes dependant on humans for food, authorities say.
Harbor seals are federally protected, though not endangered in any way, said Michael Milstein, spokesman for the National Oceanic and Atmospheric Administration's west coast division of its fisheries wing.
He was not aware of any previous harbor seal attacks -- that sometimes happens with sea lions, but even that is unusual, he said.
He advises people not to feed wild animals, as it can precipitate an attack like Balmer's and reduce wild creatures' chances of surviving in nature. While no law dictates how close people can come to wild animals, NOAA encourages people to give animals space.
"The more we can do to make sure the animals remain wild, the better chance they're going to have to survive as wild animals," Milstein said.
Todd Nicholson, executive director of the Port of Friday Harbor, reinforces that advisory.
"While we appreciate and understand that people love Popeye and she's a pretty clever and charming animal, she's still a wild animal," Nicholson said.
The Port is trying to ensure local businesses don't encourage patrons to feed the animals and hopes to distribute more information on how to behave around wildlife, he added.
Perhaps the Port's efforts to tamp down feeding has frustrated Popeye, Nicholson said.
"Popeye has done a good job or training people to feed her," wrote Port Commissioner Greg Hertel in an email. "Some folks feel that because she is blind in one eye, she has trouble hunting and that they are simply being kind to her."
But she hunts just fine in the winter when tourists are scarce and the local seafood shop is closed, he added.
When people are around, they try to get close to her and capture her on smart phones, try to get her to take fish from their hands or children's hands, or feed her inappropriate snacks like Cheetos, Hertel said.
"We urge people to love her, take pictures of her from a safe distance, learn about her, but please don't feed her or try to pet her," he wrote. She's about 200 pounds with the jaw strength of a wolf, he says.
If she were to seriously hurt someone, Popeye could be relocated or euthanized.
Balmer is recovering and still has use of his arm. He acquired treatment at the Veterans Affairs hospital in Seattle, though the staff had never seen a harbor seal bite before. He was also given antibiotics to prevent the development of a dangerous infection called seal finger.
For his part, he doesn't blame Popeye for her outburst.
"I feel sorry for her," he said. "I know it's not her fault, she's just trying to survive. I don't think she was trying to eat my arm."