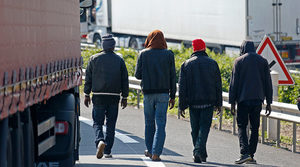 A 2-year-old child was hospitalized with hypothermia after a group of 26 migrants was found aboard a refrigerated truck bound for the UK at a ferry terminal in northern France, according to local media citing rescue services.
Around 7am Saturday, the security services at the Loon-Plage terminal near Dunkirk contacted the regional fire and rescue department after finding 26 migrants, including a toddler, in a refrigerated truck, Europe 1
reports
, quoting a statement from the authorities.
The 2-year-old, accompanied by his mother of Iraqi descent, was taken to a hospital in Dunkirk with mild hypothermia.
"The ferry terminal security service contacted emergency services after the discovery of a group of 26 migrants in a refrigerated lorry," the regional rescue services authority said, as cited by
The Local
.
On Thursday, seven migrants suffering from hypothermia and dehydration were found in a refrigerated truck in Indre in central France, according to
local media
. Having reportedly sneaked into Spain, the men of Afghan, Iraqi, and Iranian origin were hospitalized after staying in a trailer, where the temperature does not exceed 10C.
Attempting to reach Britain, migrants frequently climb into vehicles heading there by ferry or the Channel Tunnel, sometimes leading to injuries or even fatalities - not only among those on board, but drivers as well.
Earlier, a British truck driver was attacked by a group of migrants who hit him with a brick and stole his vehicle near Calais, where around 600 migrants are believed to be taking shelter. In June, another driver fell victim to a car accident in coastal France after migrants installed a roadblock on a highway to slow down the UK-bound vehicles so they could break inside.
With migrants aspiring to get to the UK and drivers facing risks, the situation on the British doorstep is exacerbated, as Human Rights Watch reports, by abuse of asylum-seekers by local police. Calais police are said to use pepper spray on both adult and child migrants, destroy their food, water, and sleeping bags, while the authorities turn a blind eye to the abuse, according to the 'Like Living in Hell'
report
.