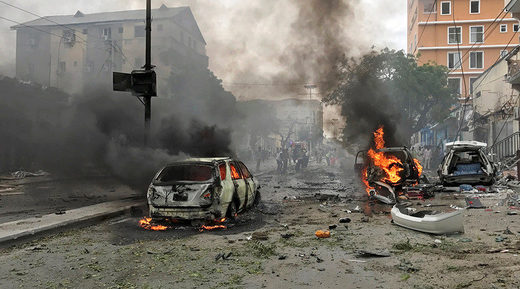 At least 6 people have been killed and around 13 wounded in a car bomb blast in Somalia's capital of Mogadishu on Sunday. The explosion was described by Reuters as "huge."
RT spoke to a local journalist, Yahye Young from Mogadishu's Mustaqbal Radio, who said he witnessed first-hand eight dead people strewn across the area where the bomb detonated.
Police have said, however, that the number of casualties is likely to rise.
Photographs and videos shared on social media show the immediate aftermath of the blast, with a burning car visible on the street. One dramatic video shows people carrying the injured away from the scene of the blast.
The blast occurred in the city's the busy area of Maka al Mukarramah Road, located near the Waberi police station.
No one as yet has claimed responsibility for the attack.
However, Al-Qaeda-linked Al-Shabaab has carried out a spate of bloody suicide attacks in the city in recent months, amid a campaign of violence gripping the nation struggling to overcome an Islamist insurgency.