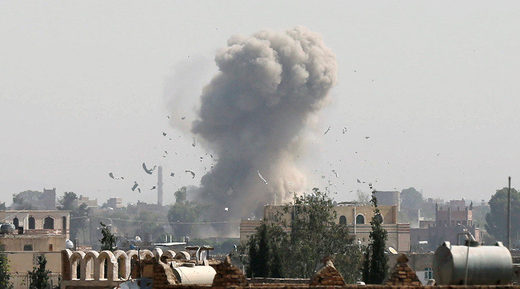 An airstrike in Yemen has likely killed at least 20 civilians, including women and children, the United Nations has said. It added that it is "deeply shocked and saddened" by the attack.
The airstrike in Yemen's embattled Mawza district, in the Taizz governorate, was reported Tuesday, according to a statement
released
by the UN Refugee Agency (UNHCR).
Although the UNHCR said the number of civilian casualties is still being verified, initial reports point to "at least 20 deaths, including that of women and children."
It notes that most of those killed in the airstrike are believed to have been from the same family. They had reportedly been displaced to Mawza from the nearby Al Mokha district.
Injuries were also reported, according to UNHCR, with a number of people taken to nearby hospitals.
The war in Yemen shows no signs of stopping, with the Saudi-led coalition continuing its military campaign.
The coalition, backed by the US, initially launched an aerial bombing campaign against Shiite Houthi rebels in March 2015 followed by a ground operation. The coalition is allied to ousted Yemeni President Abd Rabbu Mansour Hadi, who fled to Saudi Arabia when the Houthis took power in Yemen.
"This latest incident once again demonstrates the extreme dangers facing civilians in Yemen, particularly those attempting to flee violence, as they disproportionately bear the brunt of conflict," UNHCR said.
"It also illustrates the difficulties in the delivery of humanitarian protection and assistance in Yemen..."
More than 8,160 people have been killed and 46,300 injured in airstrikes and fighting in Yemen since the Saudi-led coalition began its onslaught in 2015, according to UN
figures
.
The Saudi-led coalition has often been accused of civilian casualties, with a 2016 report by the Yemen Data Project concluding that one-third of Saudi airstrikes hit hospitals, schools, and other civilian targets.
Saudi Foreign Minister Adel al-Jubeir told the Guardian that those figures were "vastly exaggerated."
Two million people are internally displaced in Yemen, many within their own governorates. However, they "continue to be exposed to danger as the conflict has affected all of Yemen's mainland governorates," UNHCR said in its statement Tuesday.
Yemen is also facing the "worst cholera outbreak in the world," the United Nations Children's Fund (UNICEF) and the World Health Organization (WHO)
warned
in a joint statement last month, blaming the outbreak on two years of violence that has engulfed the country.
"We call on all parties to end this devastating conflict," the two UN organizations said in their statement.