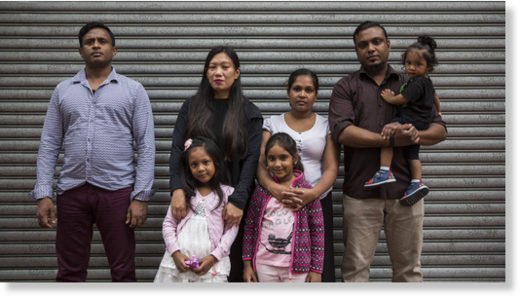 Asylum seekers who housed NSA whistleblower Edward Snowden in Hong Kong are set to sue the Canadian government for failing to expedite their refugee claims. They say their role in Snowden's escape to Russia has led authorities to repeatedly question them.
Before escaping to Russia, Snowden hid with families from Sri Lanka and the Philippines who sought asylum in Hong Kong. They hosted Snowden for short periods having been introduced to him by their mutual lawyer, Robert Tibbo.
They said they willingly helped Snowden who, like themselves, was seeking safety as a refugee. A US demand for his arrest in Hong Kong was not recognized and disclosed until after he had lawfully left the territory.
Once their connection with Snowden became known, the asylum seekers say Hong Kong authorities repeatedly questioned them to find out what they knew about Snowden, and denied them benefits for their basic living needs when they referred such questions to their lawyer.
The group includes four adults and three stateless children born in Hong Kong.
The Hong Kong government has sent the adult asylum seekers detention notices, indicating that they could soon be deported to their home countries where they say they'd face a credible risk of persecution and abuse.
The young children face separation from their parents if the adults are detained and deported.
According to a
report
in the
South China Morning Post
, the asylum seekers' legal team in Canada is preparing to file an order of "mandamus," an injunction in which they will ask the federal court to order the government to expedite their claims, based on the fact that the seven are in an "extremely vulnerable" situation in Hong Kong.
A lawyer for the group, Marc-André Séguin, said the average processing time of claims at the Canadian consulate in Hong Kong is more than four years. He argues that they need the claim processed much quicker than that because they're very vulnerable to being deported.
"We repeatedly tried to convey the urgent needs of our clients. There is no time, given that they are particularly vulnerable at the moment. We have to get them before they are deported," Séguin said.
In May the Immigration Department in Hong Kong
rejected the seven claims
. Their lawyer believes the decision was because of their link to Snowden.
The seven people are now at further risk of detention and eventual deportation to their home countries, where they claim they face violence and persecution.
Canadian Immigration Minister Ahmed Hussen has discretionary powers to speed up the screening.
In a
statement
on Monday Human Rights Watch called on Canada to expedite the claims.
"The compassionate act of letting Edward Snowden into their homes should never have landed these families in peril," said Dinah PoKempner, general counsel at Human Rights Watch.
"Canada should move quickly on these cases and safeguard these people from the prospect of detention and deportation," PoKempner continued.
"No one should have to risk return to torture or persecution because they opened their door to another who feared the same. Canada has a unique opportunity to provide these people and their children both safety and a future."