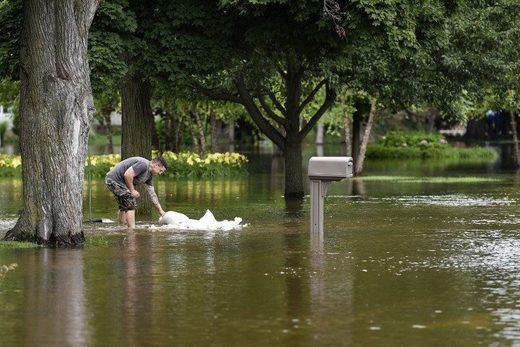 Severe thunderstorms are expected to hit the upper Midwest again this weekend. Parts of Iowa, Wisconsin, and Illinois are already flooded.
Heavy rains have left large swaths of the region under water. Severe flooding has closed roadways and knocked out power.
The flooding is being called unprecedented
. Authorities say
two months of rain have fallen in just 12 hours
in Gurnee, north of Chicago. It's not uncommon to see flooding here, 1.6 trillion gallons of water fell this week on portions of Wisconsin and Illinois, where Bruce Rauner is the governor.
"Folks think because it's not raining anymore, things are just fine or getting better -- they're not," Rauner says.
In Lake County, Illinois, 5,800 buildings have reportedly been damaged by flood water. Forecasters say flooding in the northern Chicago suburbs will get worse over the next few days as water flows down rivers into the state from Wisconsin.
In Burlington, the town's four bridges remain closed because the swollen Fox River crested at more than 17 feet.
Back in Gurnee, Illinois, we found Gary Campbell defiantly optimistic that the wall of sand around his home of 40 years will hold.
"I've survived all the other ones. The things you lose that's another story," Campbell says.
It's the Des Plaines River that overtops its banks, flooding the village of Gurnee. At one point, the river rose three feet in just three hours. No rain is expected over the weekend, however, the water and the river are still rising tonight. It won't crest until Sunday.