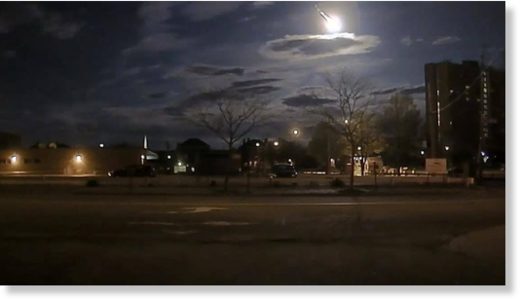 Watchers of the Whanganui sky saw a "quite spectacular" fireball split into pieces overhead on Sunday night.
One who saw it was Mark Lee, the secretary of the Wanganui Astronomical Society. He had stepped out to clear his letterbox just before 8pm when he saw the fireball, between clouds.
"It was quite spectacular," he said.
The object was heading across the sky in a north-south direction, so Mr Lee thinks it was probably a piece of space junk falling into the earth's atmosphere, rather than a meteorite.
"A lot of weather satellites and surveillance satellites do have a north-south polar orbit and their junk tends to fall along that line," he said.
Whatever the object was, it would have been burned and destroyed when it hit the earth's atmosphere. That may have happened high up, because Mr Lee said if it had been lower it would have made a noise.
The whole show only lasted three seconds, and he had no chance to photograph it.
A couple walking their dog across the Town Bridge toward the Whanganui East side saw either the same object or a similar one earlier in the evening. The woman, who wanted to be known only as Kerry, said the experience was wicked.
"It was this one, big, bright light with a long white tail.
Then it just burst

. It just blew out like a sky rocket and it just disappeared."

The fireball came over Durie Hill and was heading west. It seemed so close that she expected to hear pieces hit the water.
"It was awesome. It was just like something you have never seen before, happening right in front of you. We were just, like, whoa. It was wicked."