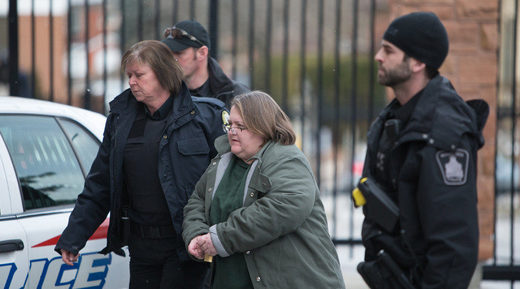 A Canadian nurse has been sentenced to eight concurrent life sentences for murdering eight elderly people who were under her care at nursing homes in Ontario.
Elizabeth Wettlaufer, 50, will serve a life sentence, without the possibility of parole for 25 years. Wettlaufer was charged last October with eight counts of first degree murder with her sentence being handed down by Justice Bruce Thomas on Monday.
When delivering his verdict, the judge said that Wettlaufer described a feeling of "euphoria" from killing the patients, and that "far from an angel of mercy" she was instead a "shadow of death that passed over them," Canada's national broadcaster CBC reports.
Wettlaufer murdered her victims by injecting them with a lethal dose of insulin. The majority of them were murdered over a seven-year period, from 2007 -2014, at the Caressant Care long-term care home in Woodstock, Ontario.
Wettlaufer pleaded guilty to 14 charges, including first-degree murder, attempted murder and aggravated assault. Further to her eight murder victims, she seriously harmed another six patients.
She told the court that a "red surge" would come over her when she was about to murder someone. During a taped interview with police of almost three hours, which was played in court, Wettlaufer said: "I honestly thought God wanted to use me," and that she got a "laughing feeling" when she killed someone.
Relatives of Wettlaufer's eight elderly victims - James Silcox, 84; Maurice Granat, 84; Gladys Millard 87; Helen Matheson, 95; Mary Zurawinski, 96; Helen Young, 90; Maureen Pickering, 79; and Arpad Horvath, 75 - read out victim impact statements before Wettlaufer herself spoke.
"I caused tremendous pain and suffering and death.... Sorry is much too small a word. I am extremely sorry," she said.
Her words were of little comfort to the victims relatives and friends, however.
"I don't really want to hear from her. She did what she did. How do you apologize for that? The whole thing just makes me sick and angry," said Laura Jackson, friend of Maurice Granat. "I don't ever want [Wettlaufer] to breathe free air again. I want her to live in a box and contemplate what she's done and know that because of her actions she's put herself into a box."
Deborah Rivers, granddaughter of Wettlaufer's oldest victim, Mary Zurawinski, said her grandmother's murder "fills us with hatred and rage."