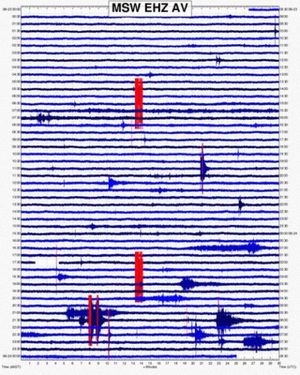 After a calmer period of approx. 10 days, another significant and quite large explosive eruption occurred at the volcano earlier today (yesterday afternoon local time).
The main pulse of the eruption which lasted about 10 minutes began at 00:49 UTC (16:49 local time) this morning and generated an
ash and steam plume that quickly rose to 36,000 ft (12 km) altitude
as pilots reported that were en route in the area and saw the cloud.
The ash plume moved east, passing over Akutan and the North Pacific Ocean before dissipating. No ash falls were reported from ground locations.
After the main explosion, 4 additional minor events occurred at 3:18-3:24 UTC, 4:13-4:21 UTC, 5:04-5:12 and 5:52-5:55 UTC. Due to cloud cover, there were no direct observations, meaning that the additional ash plumes did not reach more than 28-30,000 ft altitude.
The Aviation Color Code of Bogoslof was raised to RED.
The volcano observatory (AVO) mentions that the "volcano remains at a heightened state of unrest and in an unpredictable condition. Additional explosions producing high-altitude volcanic clouds could occur at any time."