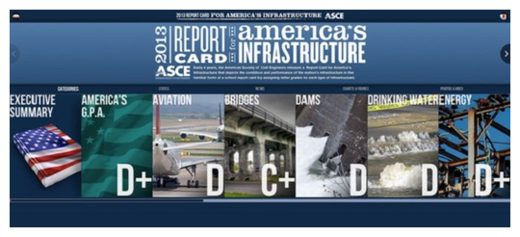 It's no secret that America's infrastructure is in dire need of repairs. Earlier this year,
America received her infrastructure report card from the American Society of Civil Engineers' and received a repulsive D+.
The ASCE guesstimates the US would need to spend $4.5 trillion by 2025 on infrastructure.
Here's the breakdown of the report card:
Aviation: D
Bridges: C+
Dams: D
Drinking Water: D
Energy: D+
Hazardous Waste: D+
Inland Waterways: D
Levees: D
Parks and Recreation: D+
Ports: C+
Rail: B
Roads: D
Schools: D
Solid Waste: C+
Transit: D-
Wastewater: D+
With that being said, I've spent the entire weekend inspecting America's infrastructure at the Port of Baltimore. At some locations, I was given special access to a behind the scenes view of America's crumbling infrastructure that the public is not allowed to see. The reasons you're left out of the know is because it destroys the mainstream narrative that everything is awesome. Even Jack Ma, the founder of Alibaba Group says,
"the US wasted trillions on warfare instead of investing in infrastructure".
In the Sunday Edition, Alastair Williamson is on site at a marine terminal in the Port of Baltimore. He provides an interesting view of America's deteriorating infrastructure blended with the current shape of the US economy.
In this video, Alastair is given special access to behind the scenes of America's crumbling infrastructure.
This view is rarely seen by the mainstream public. Enjoy!