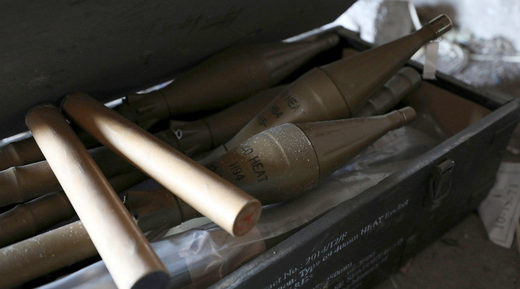 America's Government Accountability Office (GAO) has said that the Defense Department has "limited visibility and accountability" over arms and equipment sent to Iraqi and Kuwaiti forces, fueling concerns over where US weapons ultimately end up.
In a report published on Thursday, the GAO said that the Defense Department fails to "collect timely and accurate transportation information about the equipment," which raises questions about whether it actually reaches the intended destinations in Iraq.
The agency analyzed key transportation dates in the Security Cooperation Information Portal (SCIP), where the transfers should be registered to track down the equipment funded by the Iraq Train and Equip Fund (ITEF). The process consists of three stages, from acquisition and shipment to delivery to the Iraqi and Kurdish authorities.
The GAO found that while transfers are seen as registered in the first stage, there is often no further data about them.
"The system captured one of two key transportation dates for 256 of the requisitions in phase 1, and none of the transportation dates for these requisitions in phase 2 or phase 3," the report
says
.
The Pentagon has explained the lack of data by "potential interoperability and data reporting issues in all three equipping phases," according to the GAO.
The officials said there may have been a technical failure while the transfer information was imported from their data system to the SCIP.
As for the absence of delivery data, the Defense Department claimed that it is "not reporting the arrival dates of equipment to Kuwait or Iraq because they rely on other DOD [Department of Defense] data systems and are not required to do so."
Without accurate transfer data, the Defense Department "cannot ensure that the equipment has reached its intended destination, nor can program managers conduct effective oversight of ITEF-funded equipment," the GAO states in the report.
Meanwhile, the Pentagon denied previous Amnesty International reports that it lost track of $1 billion worth of arms transfers, Sputnik
reports
, citing Defense Department spokesperson Eric Pahon.
"We did not lose/fail to keep tabs on $1 billion of equipment... nowhere in that report does it say we lost equipment," the official told Sputnik, contesting the Amnesty report.
Pahon said that the Pentagon "inventories each weapon arriving in Afghanistan and Iraq and records its distribution to the foreign partner nation," and noted that the procedure had already improved.
However, the GAO still recommends that the Defense Department improve visibility and accountability over the equipment provided to Iraqi troops.
The recent declassified audit highlighted by Amnesty International showed that the US Defense Department was seemingly unaware of what happened to more than $1 billion in arms and equipment meant to be delivered to the Iraqi Army.
Amnesty International slammed such negligence, saying that "lax controls and record-keeping within the Iraqi chain of command" could have resulted in arms falling into the hands of different militant groups, including Islamic State (IS, formerly ISIS/ISIL).