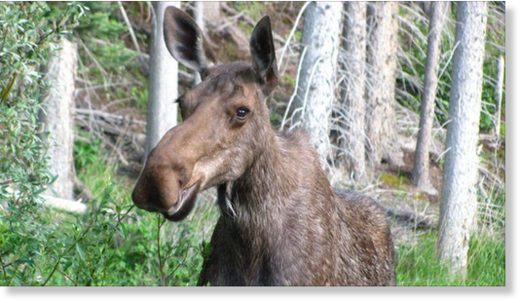 A woman was taken to the hospital after being attacked by a moose in the Eaglewood neighborhood of Eagle River on Monday evening.
According to the Anchorage Police Department, the woman suffered non life threatening injuries in the incident, which occurred at around 7:30 p.m. A police dispatcher said Monday evening the moose left the immediate area after the confrontation. The moose was apparently a cow with two calves, according to an Alaska Department Fish and Game biologist.
A post made by the
Eaglewood Homeowners Association Facebook
page Monday night showed a photo of paramedics loading someone onto a stretcher and a message for people to stay off trails in the area. The post said moose and bears have been spotted in the neighborhood in recent days.
Greg Beck said his sister was walking her two dogs when the moose apparently attacked. He didn't know much about what happened, but said
the attack was bad enough to put her in the intensive care unit with "a bunch of broken ribs and lacerations."
Beck said his sister needed help finding her cell phone and glasses Tuesday.
"She's hanging in there," he said.
The attack is at least the third reported in the past six years in the area.
The large, heavily wooded neighborhood on the slopes of the Eagle River Valley near the intersection of Eagle River Road and
Eagle River Loop was also the site of a moose attack in May of 2012 that left a 6-year-old girl with serious injuries and another reported charging in 2016.
Alaska Department of Fish and Game biologist Dave Battle said that when the first emergency responder arrived on scene, the woman's two dogs were leashed. He said he hadn't yet interviewed anyone who witnessed the attack Tuesday morning, but said it's not uncommon for moose and humans to come into contact in the neighborhood.
"Last year we went to a call right near there," he said.
May is moose calving season in Southcentral Alaska, a time when the animals are considered their most dangerous. Battle said he has no reason to believe the moose in this year's attack was particularly aggressive — especially since all cows with calves are notoriously testy this time of year. He explained that newborn calves are still shaky on their feet this time of year and unable to effectively flee predators. Until the calves learn to run, mama moose are likely to stand their ground in almost all circumstances.
"Any cow with calves is likely to charge if someone gets too close," said Battle, who noted that there are numerous cows with calves in the Eagle River Valley, which would make it difficult to identify the moose in question.
Battle said the trails in the Eaglewood area can be especially dangerous because the greenbelt that runs through the neighborhood is "hemmed in" by fences.
"There are a lot of places on those trails where you would not be able to get past a moose without getting too close."
Like the homeowner's association, Battle said he would not advise using the trails until newborn moose get steadier on their feet and mother's become a bit less protective. Anyone who does use the trails should do so with extreme caution, he said.
"I wouldn't do it at high speed," he said.