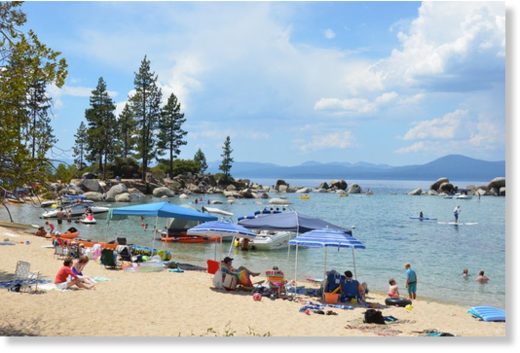 It has been a record-breaking year with the amount of snow and rain,
the lake is close to max capacity.
"The no trespassing sign was on the beach at some point," said Michelle Williams while pointing to a sign that's under water by at least 6 feet.
What used to be a vast sandy beach, Williams said was swallowed by water in front of Ski Run Marina where she's worked for 25 years.
"We had a huge beach with a lot more people out on it, so it will be kind of interesting to see how business goes," she said.
But also gone are the days of dried up docks. After four years of drought, now there's plenty of water.
"If you were a boater, you were depressed," said Bob Becker with U.S. Forest Services.
But not this year. Becker said summer recreation in Tahoe will be slightly different.
"Of course we like water and we are happy it's here, but it's less real-estate in which to have fun on," he said.
There's plenty of sand still on Nevada Beach in Reno, but other beaches have narrowed, and some are simply gone.
"We want people to have access to the public land and we certainly don't want them to be frightened or scared away because of this potential lack of beaches. They just need to change their expectations a little bit," Becker said.
Even with all this water the lake still hasn't peaked.
Experts believe the snow melt will make it rise about a foot by the end of July.
"A lot of the resorts are staying open till 4 July, so you got the winter crowd in the summer crowd," Williams said.
So while the landscape has changed over the years, this summer will still be big for boaters and maybe less for beachgoers, it's recommended that everyone packs some patience.
There is still plenty of snow covered trails in the high Sierra,
so you'll also want to be prepared while planning a hiking trip.