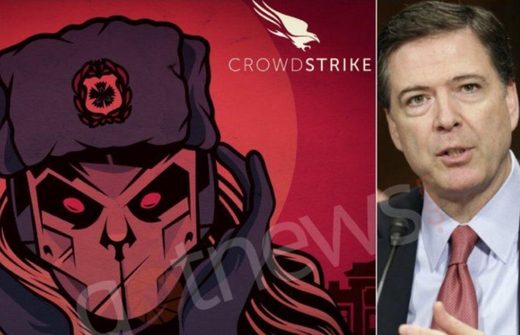 Last week, I published two posts on cyber security firm CrowdStrike after becoming aware of inaccuracies in one of its key reports used to bolster the claim that operatives of the Russian government had hacked into the DNC.
This is extremely important since the DNC hired CrowdStrike to look into its hack, and at the same time denied FBI access to its servers.
Before reading any further, you should read last week's articles if you missed them the first time.
Now here are the latest developments courtesy of
Voice of America
:
U.S. cybersecurity firm CrowdStrike has revised and retracted statements it used to buttress claims of Russian hacking during last year's American presidential election campaign. The shift followed a VOA report that the company misrepresented data published by an influential British think tank.

In December, CrowdStrike said it found evidence that Russians hacked into a Ukrainian artillery app, contributing to heavy losses of howitzers in Ukraine's war with pro-Russian separatists.

VOA reported Tuesday that the International Institute for Strategic Studies (IISS), which publishes an annual reference estimating the strength of world armed forces, disavowed the CrowdStrike report and said it had never been contacted by the company.

CrowdStrike was first to link hacks of Democratic Party computers to Russian actors last year, but some cybersecurity experts have questioned its evidence. The company has come under fire from some Republicans who say charges of Kremlin meddling in the election are overblown.

After CrowdStrike released its Ukraine report, company co-founder Dmitri Alperovitch claimed it provided added evidence of Russian election interference. In both hacks, he said, the company found malware used by "Fancy Bear," a group with ties to Russian intelligence agencies.

CrowdStrike's claims of heavy Ukrainian artillery losses were widely circulated in U.S. media.

On Thursday, CrowdStrike walked back key parts of its Ukraine report.

The company removed language that said Ukraine's artillery lost 80 percent of the Soviet-era D-30 howitzers, which used aiming software that purportedly was hacked. Instead, the revised report cites figures of 15 to 20 percent losses in combat operations, attributing the figures to IISS.

Finally, CrowdStrike deleted a statement saying "deployment of this malware-infected application may have contributed to the high-loss nature of this platform" — meaning the howitzers — and excised a link sourcing its IISS data to a blogger in Russia-occupied Crimea.

In an email, CrowdStrike spokeswoman Ilina Dmitrova said the new estimates of Ukrainian artillery losses resulted from conversations with Henry Boyd, an IISS research associate for defense and military analysis. She declined to say what prompted the contact.

Dmitrova noted that the FBI and the U.S. intelligence community have also concluded that Russia was behind the hacks of the Democratic National Committee, Democratic Congressional Campaign Committee and the email account of John Podesta, Hillary Clinton's campaign manager.
Here's the problem. Yes, the FBI has agreed with CrowdStrike's conclusion, but the FBI did not analyze the DNC servers because the DNC specifically denied the FBI access. This was noteworthy in its own right, but it takes on vastly increased significance given the serious errors in a related hacking report produced by the company.
As such, serious questions need to be asked. Why did FBI head James Comey outsource his job to CrowdStrike, and why did he heap praise on the company? For instance, back in January,
Comey referred to CrowdStrike
as a "highly respected private company."
In a hearing with the Senate Intelligence Committee Tuesday afternoon outlining the intelligence agencies' findings on Russian election interference, Comey said there were "multiple requests at different levels" for access to the Democratic servers, but that ultimately a "highly respected private company" was granted access and shared its findings with the FBI.
Where does all this respect come from considering how badly it botched the Ukraine report?
Something stinks here, and the FBI needs to be held to account.