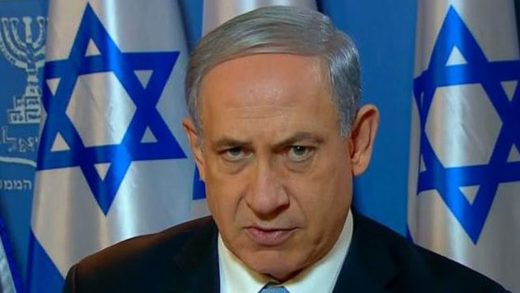 Israel has greenlighted a national debate on a controversial bill that would anchor the apartheid state's status as solely a Jewish one, further discriminating against Arabs and setting up a further barrier to a peace process with Palestine.
Sunday saw an Israeli cabinet committee approve a revised version of a bill that was first proposed in 2011 and that declares the "State of Israel is the national home of the Jewish people,"
its author, Avi Dichter of Prime Minister Benjamin Netanyahu's right-wing Likud party, wrote on Facebook.
The bill, however, must still go through a drafting by the Justice Ministry and pass several votes in parliament in what is expected to be a lengthy process to reach its potential approval.
The move comes as U.S. President Donald Trump is set to visit to Israel in the two weeks. Trump has vowed to rekindle the so-called peace process between Israelis and Palestinians, reiterating his position last week when
he met with
Palestinian Authority President Mahmoud Abbas at the White House, where he vowed to broker such a process without putting forward any new proposals.
While Palestinians within the borders of the Israeli state are already marginalized, this bill in particular would make Hebrew the country's lone national language, downgrading Arabic to solely "a special status in the state" whose "speakers have the right to language-accessible state services,"
The Guardian
reported.
Ayman Odeh, the head of the Joint List representing Arab-Israeli parties, said the bill is a "declaration of war" on Israel's Arab citizens.
"Discrimination has received a legal stamp. The danger in this law in that it establishes two classes of citizen - Jewish and Arab,"
he said,
The Guardian
reported.
Palestinians are most worried that the pending legislation could diminish any hope of Palestinian refugees being able to return to the occupied territory.
While Abbas also characterized the "nation state" legislation as putting "obstacles in the way of peace,"
he still supports
a two-state solution, a position not supported by the majority of Palestinians.
Announcing Saturday that she
will be hunger-striking
in solidarity with Palestinian prisoners, revolutionary icon
Leila Khaled
, a member of the Marxist-Leninist Popular Front for the Liberation of Palestine, declared that the
PA leadership
wants "to sell us the illusion that Trump will resolve our struggle through negotiations," and stated that the prisoners' struggle is a clear alternative path of liberation.