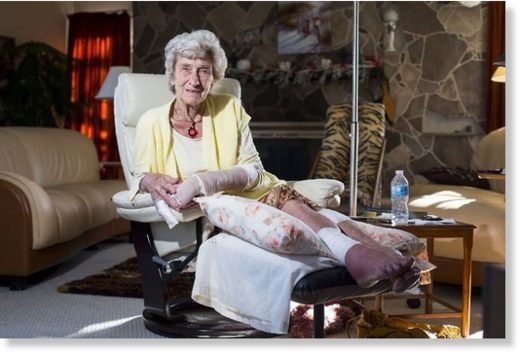 An 81-year-old woman is recovering from bites and scratches after being attacked by a raccoon at her St. Catharines home in what officials say is a rare event.
Paramedics took Wilma Hagt to hospital with injuries to her legs and hands while animal services trapped the raccoon Sunday.
"I was bleeding all over," Hagt said Wednesday from her Carlton Street home. "It was just unbelievable. Half of my finger was off, the top of my finger was dangling.

"You tell people, they've never heard of it that vicious."
Hagt said she was leaving her home on Sunday at about 8 a.m. to go to the store and from the window noticed a raccoon walk very quietly from the backyard. It passed her house and went to the left towards her neighbour's property.

She went outside towards her car and suddenly felt her right leg being bitten. She said she didn't see the raccoon coming.

"I ran into the house. We have a small entrance and I thought I'd get away from him, but the door closes slowly because we have little kids here coming in and out, and he snuck in with me," she said. "That's when he attacked me quite a bit."
Hagt said she was stuck in the front mud room with the raccoon as he repeatedly went after her. Hagt's husband was in the shower and didn't hear the commotion.
"I thought, I have to get out of here. It's a little bit vague now because I was actually in shock, but I got into the house and locked the door in between."
She called 911 with the raccoon trapped in the mud room. She said the 911 operator kept her on the phone until Niagara Emergency Medical Services, police and Lincoln County Humane Society arrived.
The good news was that after receiving rabies shots,
she was told Wednesday the raccoon was not rabid.
Kevin Strooband, executive director of the humane society, said an attack by a raccoon with no provocation is very unusual.
The Carlton Street raccoon may have been suffering from distemper, a bacterial virus that is the second leading cause of death in raccoons, next to human interference.
Distemper is the most prevalent disease in raccoons in this area,
but Strooband said victims normally curl into a ball.
"
With this raccoon that we're talking about, there was something wrong. Whether it was distemper or not, there's absolutely something wrong," he said.
The humane society received 120 calls about suspicious raccoons in St. Catharines in 2016 and 144 altogether when factoring in Grimsby, Thorold and other areas it responds to. That was drastically up from 29 in St. Catharines in 2015 and a total of 85 calls.
That doesn't necessarily mean there are more raccoons or sick raccoons in the city.
Strooband said people may be more aware of racoons and diligent about calling officials because of the rabies outbreak in Hamilton that's been found in some parts of Niagara.
Niagara Region Public Health said 21 raccoons and skunks have been found with rabies in the region since December 2015. They've been located in Grimsby, West Lincoln, particularly Caistor Centre, and Port Colborne.
Peter Jekel, manager of environmental health, said there was no human interaction in any of those rabies cases. The animals were picked up by Ministry of Natural Resources as part of their surveillance.
The public health department did investigate more cases of raccoon bites or contacts in 2016 over 2015 though. Again, that may be due to awareness.
Public Health had 53 cases of raccoon bites or contacts, such as saliva exposure, in 2016. That's up from the previous year when there were 39 cases, which also included other wild animals like skunks or foxes.
"The main way to prevent yourself from being exposed is a, get your animal vaccinated if you have a dog or a cat and to stay away from wild animals," Jekel said, adding there may be circumstances where a person is caught off guard while taking out the trash or something like that.
"But don't make your home attractive to raccoons to come in, like leaving garbage out or compost, things that would bring them in to look out for food," he said. "When you bring them in, you'll bring in the healthy ones, but also potentially the ones with rabies as well."
If an animal is acting strangely, Jekel said residents should call animal services and have them trapped.
Hagt said she had never seen a raccoon at her home before the day she was attacked. She can't help but think it could have happened to her great-grandkids who visit all the time.
"It's good to hear he didn't have rabies, but still it's funny how he attacked me," she said. "He was not cornered, I don't know what happened.
"He was so clam, cool and collected when he walked by the house."
Hagt received stitches on her finger and both legs. She said she can't walk or use crutches because her legs are too sore to put weight on them.
It's a bit nerve-racking to go outside but Hagt did enjoy some sun for a short time on Wednesday. She was alert of her surroundings.
"I had a stick with me there just in case."