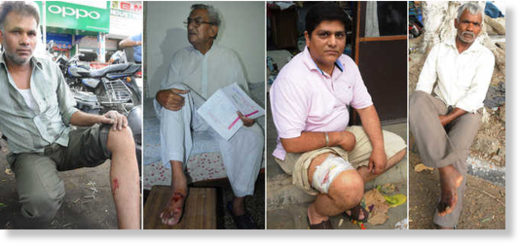 MC team catches canine; not rabies carrier, says official
A stray dog attacked 11 persons, including senior citizens, in Sector 15 today. Though the dog was caught in the afternoon, the residents were not happy with the efforts made by the MC team.
The Chandigarh Municipal Corporation has failed to find a permanent solution to the stray dog menace in the city.
Kanhaiya, who works at the MC public toilet in Sector 15-D, was the first one to be attacked by the stray dog at 4 am while he was sleeping outside the toilet block. He said the dog attacked his left leg and he had to be treated at the Sector 16 hospital.
Virender Gupta (45), a rickshaw-puller, who was attacked by the dog at 5 am, said he was sleeping in the corridor of the Sector 15-D market when he was attacked by the dog. He even punched the dog but it did not leave his foot, he said. Echoing a similar view, Sukhdev Kumar, a resident of Sector 15-A, who was attacked in the right leg, said it was 6.30 am and he was in the market opposite his house when the dog suddenly attacked him. He tried to save himself from the dog, but to no avail, he said.
VM Chopra (87), a resident of Sector 15-D, said he was standing outside his house when at 10.30 am, the dog attacked him. The dog's teeth were so sharp that they made a hole in his slippers, he said.
"
There are 20 to 30 stray dogs at Cheap Houses in Sector 15-D that always attack people here," he said.
Similarly, the same stray dog attacked 40-year-old Mohammad Irshad, a motor mechanic in Sector 15 market. He said he was working when he was attacked by the dog. Ram Ashish, a rickshaw-puller, said the dog attacked him in the head when he was sleeping at 5 am. Now, there is panic in the entire market, he said. While a majority of the victims went to the Sector 16 hospital for treatment, some others went to private clinics in Sector 15 and nearby sectors.