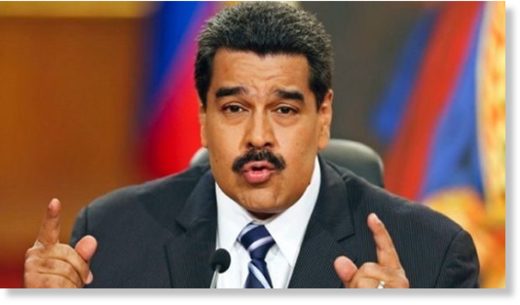 According to the Bolivarian leader, the U.S. government wrote up a coup scenario for opposition leader Julio Borges.
A day before opposition leaders convened more protests in Caracas calling for the ouster of Venezuela's government, the country's leader has accused the United States of working with right-wing leaders towards a coup.
"The U.S. government, the State Department has given the green light, the approval for a coup process to intervene in Venezuela,"
President Nicolas Maduro said, speaking from the Miraflores Palace.
Maduro said that security forces had arrested an "armed commando group sent by the opposition in order to attack the mobilization called by the right-wing for Wednesday to generate violence and deaths in the country."
An investigation has been opened to determine who is behind the plan.
According to the Venezuelan leader, who also pointed to
a U.S. State Department statement issued Tuesday evening warning of an "international response" should "peaceful protests" face repression
, the U.S. government wrote up a coup scenario for opposition leader Julio Borges.
The "scenario" Maduro referred to consists in generating violence and deaths before blaming the Venezuelan government for allegedly violently attacking political opponents.
Then the plot leaders would demand immediate elections, ahead of Maduro's official end of term in 2019.
"No more coups in Venezuela, no more plots," said Maduro, adding that he activated a public security plan to maintain order.
The Venezuelan leader also called on government supporters to take the streets in the defense of the 18-year Bolivarian Revolution, which has seen an unprecedented internal and external attack in recent months.
The demonstrations come after weeks of opposition-led anti-government demonstrations calling for the ouster of the country's Supreme Court judges as well as President Nicolas Maduro. According to reports, among those killed in the ensuing violence include a 13-year-old boy who was shot Wednesday when opposition protesters entered a social housing complex and an 83-year-old woman who was not able to receive medical attention due to opposition roadblocks.
Opposition protesters have vandalized various areas in Caracas in recent days causing economic damage estimated at around 50 billion bolivars, President Maduro announced Sunday. A high school, a community health center, various subsidized food markets and several government ministries have also reportedly been severely affected.
The opposition MUD alliance has called for a "Mega March" protest in Caracas on Wednesday and estimate a large turnout with promotions flooding social media.
Officials fear that there could be violence should they attempt to redirect marches to areas where pro-government demonstrators will be gathered.