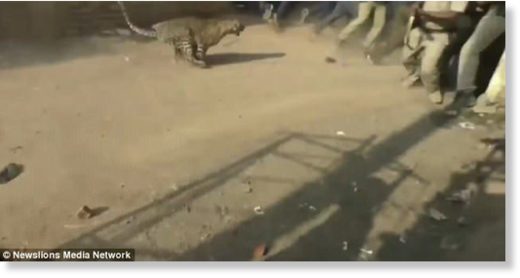 A leopard strayed into a village in India and attacked a boy and a forest ranger before officials were able to tranquillise it and lock it up in a cage.
The boy, Milan Rana, and forest ranger Bijay Khuntia were attacked in Bolangir district in the state of Orissa.
Another man, Satyajit Kundakel, suffered minor injuries when he jumped off the roof of a house in a bid to save himself from the marauding leopard.
After a rescue operation which lasted 12 hours the leopard was captured, caged and taken away.
The animal first appeared in the village in the early hours of Monday morning, when it sneaked inside the house of a villager, Aniruddh Rana.
His neighbours spotted the animal and raised the alarm.
But the big cat badly mauled Milan, the son of his neighbour Barun Rana, before the neighbors came to his rescue.
When local forest ranger Bijay Khuntia was notified about the leopard on the loose he arrived and took stock of the situation.
But the animal attacked Mr Khuntia, inflicting critical injuries on his face and hands.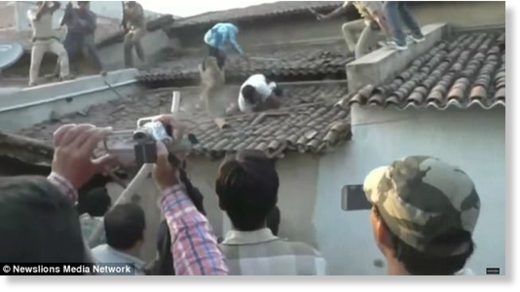 Eventually forest rangers managed to tranquillise the animal and avert further injuries.
Rashmi Ranjan Nayak, Bolangir district forest officer, said: 'Actually, the main challenge was to control the mob.
'We would have captured the animal if the villagers wouldn't have created disturbance to during the operation. I am glad that we finally managed to cage the beast.'