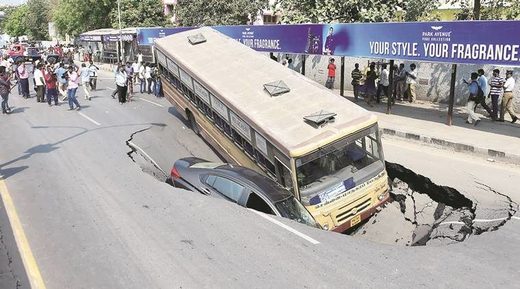 B Gunaseelan, a bus driver with the Chennai Metropolitan Transport Corporation, sensed a flat tyre soon after he had stopped the bus at the Thousand Lights bus stop on Chennai's Mount Road on Sunday. He alerted the conductor and looked out of the window: it was not the tyre, the road was caving in.
Gunaseelan immediately asked all passengers to get off. "I still didn't know that the boring work of Chennai Metro Rail tunnel was under way.
As we helped the passengers get off, the front part of the bus kept sinking into the crater," he said. As those on the bus disembarked, R Pradeep, a physician who was following the bus, drove into the crater.
On realising that the road was caving in, he tried to drive past the crater, but was trapped inside it with the doors of his car jammed. Pradeep escaped unhurt as people stepped in and brought him out of the car.
An official release from Chennai Metro Rail Limited (CMRL) said the incident took place around 2.03 pm. The size of the sink hole was about 5 m wide and about 10 m long and about 2 m deep, the release said. "Due to the sudden sink hole formation, the front portion of the bus and car got trapped inside the sink hole," the CMRL said in a statement.
The cause behind the caving in is a loose soil pocket along the tunnelling alignment where the boring machine is under operation, said the statement.
However, CMRL claimed that it has in place a system to monitor impact of the tunnelling work. Monitoring points have been installed throughout the tunnel alignment at intervals of 10 m, said the statement, adding that a reading was taken every 6 hours to check for any development because of the tunnelling.
A reading was taken around 2 pm, just before the incident, but no settlement was recorded, said the statement.
The CMRL said inspection and restoration of the affected area will be taken up in full swing and the road might be opened to traffic by Monday morning.
The CMRL is constructing phase 1 of Chennai metro extending to 48 km. Of this, 46 km will be underground.