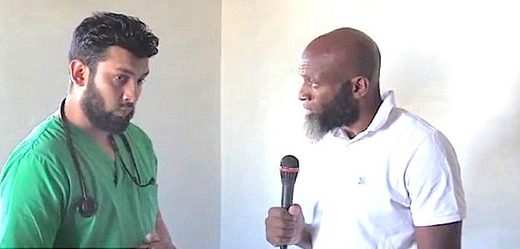 A British doctor who documented the controversial chemical weapons incident in Syria was considered a "committed jihadist" by MI6
and struck off the General Medical Council in 2016 - and an independent researcher has told Sputnik it is
not the first time a figure with extremist links has been given mainstream media airtime.
In the immediate aftermath of the incident,
Shajul Islam, 31, posted a flurry of photos
on Twitter depicting individuals allegedly afflicted by sarin gas, and was subsequently interviewed by several mainstream television networks.
Paraded as the savior of innocent civilians,
he repeatedly called for Western intervention in Syria, claiming the April 4 incident was merely the latest installment of a concerted campaign of gas attacks, which was "continuing every day."
What the mainstream media didn't reveal, however, is that far from a modern day Florence Nightingale, Islam, who hails from Stratford in East London, was deemed
a "committed jihadist" by the UK intelligence services.
He first traveled to Syria in 2012 ostensibly to provide medical assistance in rebel-held areas of the country, such as Al Bab, but shortly after arriving was placed on
MI6's wanted list for his potential role in the kidnapping of photojournalist John Cantlie and Jeroen Oerlemans.
The pair were held captive for nine days after accidentally straying into a jihadist camp in northern Syria, where Islam was working. Subsequently freed by the Free Syrian Army, Cantlie has since been imprisoned by Daesh, and Oerlemans was killed by snipers in Libya in October 2016.
Islam claims he was a mere medic, not affiliated with any terror group, but was nonetheless
arrested at Heathrow Airport upon his return to the UK in 2013,
held by Sussex Police's specialist counterterrorism units, and subsequently charged alongside younger brother Najul Islam, who worked in the UK Department for Work and Pensions before traveling to Syria, and Jubayer Chowdhury.
All three were held in high security
Belmarsh Prison
until their trial in Kingston Crown Court — but in November 2013, the Crown Prosecution Service announced they were unable to proceed with the trial, as Cantlie and Oerlema were unable to attend court and give evidence. "The two victims in the case are the two prosecution witnesses on which the case rested wholly on their evidence. The prosecution are unable to call either victim for the purposes of the trial listed today," the CPS said in a statement.
After the collapse of the case, Shajul and Najul returned to Syria.
Shajul was struck off the General Medical Council in March 2016, after a 16-day tribunal. He is currently
ensconced in Idlib,
the site of the
chemical weapons incident
, and one of the few remaining rebel strongholds in Syria.
Reports have suggested the city's
rebel government is brutally repressive,
ethnically cleansing religious and ethnic minorities, banning music and instituting a violent theocratic rule of law under which women accused of adultery are publicly executed.
Robert Stuart, an independent researcher who has documented
potential fakery
in the
2013 BBC Panorama documentary
Saving Syria's Children
,
told Sputnik that what's most shocking about Islam's elevation to
"star witness"
in the media is the same outlets also reported his arrest, and subsequent flight to Syria in 2016. What's more,
he is not the first
individual in Syria with
unacknowledged militant connections
to be provided a platform by the media.
Dr. Rola Hallam, a member of charity Hand in Hand for Syria's executive committee, was the
centerpiece of Saving Syria's Children,
and has often
been interviewed
about the country's humanitarian situation on television. She is typically presented as an independent medical practitioner treating wounded civilians — although there is much to suggest
the charity is closely aligned with the Free Syrian Army.
For instance, Hand in Hand's original logo was based on the flag adopted by the Free Syrian Army — and until July 2014, the Facebook banner of the charity's co-founder, Faddy Sahloul, read "WE WILL BRING ASSAD TO JUSTICE; NO MATTER WHAT LIVES IT TAKES, NO MATTER HOW MUCH CATASTROPHE IT MAKES."
In subsequent correspondence with the BBC, the Director of the BBC's Editorial Complaints Unit, Colin Tregear, stated
it was "implicit" the charity would share the "aims and objectives" of the Free Syrian Army,
as it operated in areas of the country controlled by the opposition.
Basing stories on information garnered from
questionable sources
has become a key hallmark of news reporting on the Syria conflict.
For instance, the
Syrian Observatory for Human Rights
frequently pops up in mainstream news reporting, but while typically described as
a "monitoring group," the organization consists of one man, who has not visited Syria in over a decade, conducting research from his bedroom in an English town.
While the
media is resolute
in the conviction that the incident was an attack, carried out by government forces, Western leaders and chemical experts are more circumspect.
At an April 4 press conference,
Staffan de Mistura,
UN Special Envoy for Syria, said he
was yet to receive any reliable confirmation
on the source and nature of the incident.
Federica Mogherini,
High Representative of the EU for Foreign Affairs and Security Policy
likewise said, "we do not have evidence at the moment."
The Organization for the Prohibition of Chemical Weapons likewise did not apportion blame for the attack,
and noted Syria had destroyed at least 95 percent of its chemical weapons reserves.