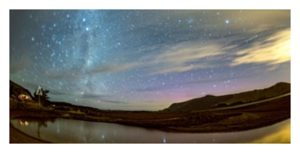 Reports of a bright light shooting across the skies last night have come in from around the country, including Dunedin.
ODT Online submitter Peter Simkins relates looking out of his window in Broad Bay towards Port Chalmers and seeing a ''yellow streak of light plummeting to earth''.
Other sightings have come in from in Blenheim, Porirua, Lake Ferry, Martinborough and New Plymouth.
Some people posted on social media about seeing the sky light up, while others described the light as being green in colour. Fairfax is this morning reporting that it may have been may be a Russian cargo rocket re-entering the earth's atmosphere.
One woman posted on Facebook that she saw the light in Lower Hutt.
"Yup saw it clearly in Lower Hutt. It was huge and the tail colorful."
The Herald
was unable to contact an expert to comment on the sighting tonight, but a person at the University of Canterbury's Mt John Observatory said descriptions provided indicated people had seen a meteor.
According to Nasa, small chunks of rock and debris in space are called meteoroids.
They become meteors, or shooting stars, when they fall through a planet's atmosphere; leaving a bright trail as they are heated to incandescence by the friction of the atmosphere. Pieces that survive the journey and hit the ground are called meteorites.