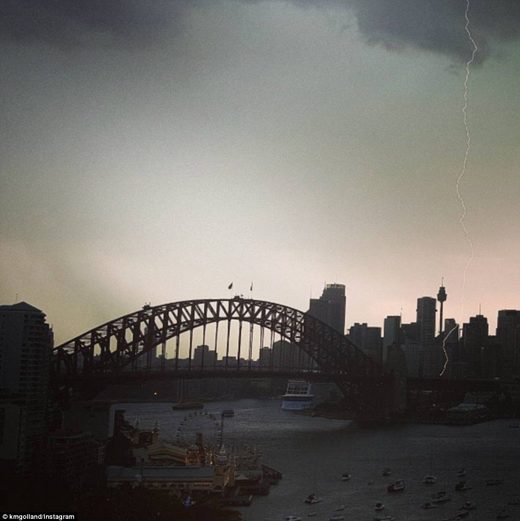 Sydney has been hit by a severe storm with hail, thunder and lightning lashing the streets just minutes after residents basked in 30C temperatures.
More than 4,200 people were left without power in the city's west, north west and the Illawarra due to the storm, while passengers leaving Sydney Airport were told to check with airlines for delays.
People were warned not to stand near trees, to unplug delicate electrical appliances, secure outdoor furniture and avoid standing near trees as lighting and winds of up to 100km/h struck.
Homeowners and motorists were also warned of damage to properties and vehicles thanks to
hailstones the size of 50 cent pieces
which pelted the city.
Meanwhile heavy rainfall could cause flash-flooding in some areas with more to come on Saturday as the city is lashed by the same storm-system a second time.
Temperatures in Penrith, which topped out at 39C,
fell by 10 degrees in just 30 minutes
as the storm hit on Friday afternoon, Ms Westcott told
Daily Mail Australia
.
'Ten degrees in 30 minutes is quite a bit, quite quickly,' a Weatherzone meteorologist said.
Sydney Airport says it is experiencing delays due to the storm and is advising passengers to check with their airlines before traveling.
Despite an earlier passenger announcement inside the domestic terminal that 'tarmac activity has ceased', an airport spokeswoman assisted the runway remains operational.
She was unable to say how long the delays are, how long they are expected to last for, or whether there will be further delays during tomorrow's storm.
Endeavour Energy says 'lightning and heavy rain associated with the storm' has caused 'outages' for more than 4,200 customers in the Sydney suburbs.
Macarthur, Penrith, North West Sydney and the Illawarra have all been affected, with the company saying technicians are working to restore power.
Multiple fast-moving storms hit the Penrith region, southwestern Sydney and near Wollongong, a spokeswoman told AAP.
Shortly before 3pm on Friday, the storm was skirting around Camden, Campbelltown, and Warragambah.
The storms will be most damaging in Newcastle, Gosford, Scone, Cessnock, Maitland, Sydney CBD, Penrith, Parramatta and Katoomba on Friday afternoon, Bureau of Meteorology said.
The SES advises people to tie down any loose items in backyards or on balconies.
Motorists should avoid driving cars if possible and people should avoid using the phone.
SES is advising residents to unplug computers and appliances.
Residents should keep clear of fallen power lines or objects that could be have electricity passing through them, like fences.
'Stay indoors away from windows, and keep children and pets indoors as well,' SES advised.
The storm will mark the beginning of a washout weekend for Sydney and other cities along the east coast as last weekend's heatwave comes to a dramatic halt.
There is a 95 per cent chance of rain in Sydney on Saturday, with more thunder and lightning forecast.
Brisbane will also see a high chance of storms toward the end of Saturday and heading into Sunday, while Melbourne will be plagued by heavy cloud and intermittent showers throughout the weekend.
Temperatures will also plummet, with lows of 18C in Sydney by Sunday, compared to last weekend's highs of 47C in the western suburbs.
Brisbane will remain relatively warm at 33C despite the rain, though Melbourne is forecast to see lows of 12C.
Source: Australian Associated Press