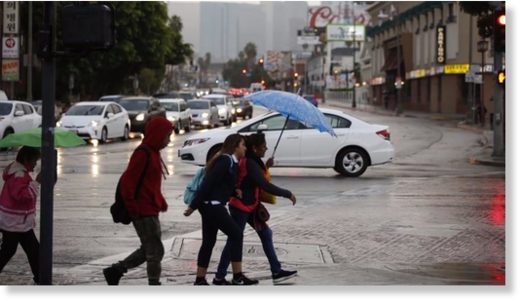 A powerful new storm is expected to arrive in Southern California on Friday, and it
could provide a walloping, with possible flash flooding, mudslides and rock slides
.
"The
Friday storm in particular could in fact become the strongest of the season in the Los Angeles region
," said UCLA climate scientist Daniel Swain.
A slow-moving storm is expected to debut in the Southland with some light rain Thursday night or Friday morning, but is expected to dump large amounts of rain in a short time frame during its peak Friday afternoon and evening, said Ryan Kittell, a forecaster with the
National Weather Service
in Oxnard.
Rainfall totals for the Los Angeles metropolitan area are predicted to be between 2 to 4 inches, with 6 to 8 inches expected in the mountains and foothills, he said.
"The raw numbers don't look that scary, but
if we get the bulk of that coming over a small period, that will cause a lot of issues
," Kittell said. Much of that rain could fall within a 12-hour period Friday, and
it could fall at a rate of more than an inch per hour,
he said.
There is a high likelihood, Kittell said, for a "lot of roadway flooding," as well as falling trees because the storm also is expected to usher in powerful winds.