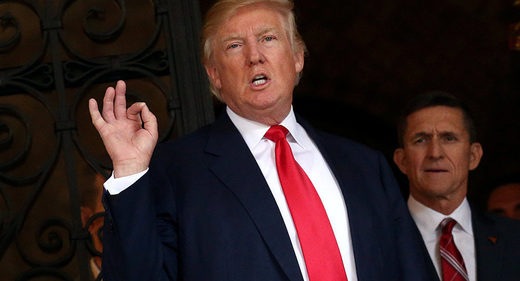 US President Donald Trump's opponents are trying to persuade the public that the new administration could have had ties with Russian intelligence. By doing this they seek either to force Trump into following Barack Obama's foreign policy course or to impeach him like Richard Nixon, Russian scholar Vladimir Vasiliev told RIA Novosti.
By bringing more and more accusations against US President Donald Trump's team, the Democratic Party tries to create preconditions for the President's impeachment, Vladimir Vasiliev, a senior fellow at the Institute of the USA and Canada, believes.
Citing four current and former American officials, The
New York Times
reported Tuesday that some of Trump's associates allegedly had contacts with Russian intelligence officials.
The media outlet claimed that one of Trump's advisors allegedly spotted communicating with Russian security agents was Paul Manafort. However, Manafort dismissed the allegations dubbing them as "absurd."
"Representatives of the Democratic Party in Congress expressed satisfaction with the resignation of [Donald Trump's national security advisor] Michael Flynn.
They stated explicitly that this is only the beginning and that they will conduct a frontal attack against the Trump administration, in particular, its relations with Russia,"
Vasiliev
told
RIA Novosti.
In this respect Vasiliev echoes political analyst and Israeli publicist Avigdor Eskin who told Sputnik Tuesday that Flynn's resignation has
only whetted the Democrats' appetite
.
"By yielding to his adversaries and removing General Flynn President Trump only increased their appetite," Eskin remarked.
"Let us put it straight: the liberal media and some parts of the intelligence community in the US did not go after General Flynn, but after President Trump himself.
It appears that the President felt that he was pushed into a 'no choice' situation," the Israeli publicist said.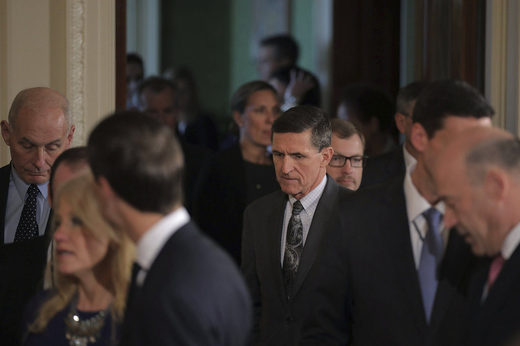 According to Vasiliev, the ongoing fuss over Trump's alleged ties with the Russian administration will only increase.
The expert explained that the President's political adversaries will make efforts to persuade the US public that there was cooperation between Trump's team and the Russians during the election campaign.
"They are doing this in order to paralyze Trump's actions, or even to push him towards impeachment or resignation," Vasiliev said.
In an interview with Sputnik on Wednesday Russian Senator Vladimir Jabbarov shared a similar stance.
Jabbarov believes that US mainstream media speculation over Trump's alleged contacts with Russian intelligence is
aimed at impeaching the President
.
Vasiliev believes that the Democrats also seek to force Trump into following in Barack Obama's footsteps in his foreign policy towards Russia and Ukraine. They want to extend Obama's sanctions regime against Moscow under Trump and disrupt any attempts to establish a détente with Russia.
It appears that the US President's opponents succeeded in doing this given Trump's recent remarks on Crimea, experts note.
"President Trump has made it very clear that he expects the Russian government to
deescalate violence in the Ukraine and return Crimea
," White House spokesman Sean Spicer said at a daily news briefing Tuesday.
​"Flynn not real target... Trump's reaction suggests he may well concede to opponents on Russia," political analyst and Carnegie Moscow Center's Director Dmitri Trenin tweeted Wednesday.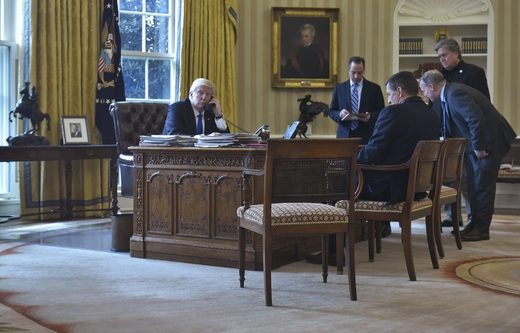 According to Vasiliev, Flynn's resignation was Trump's first mistake.
"What happened to Flynn is a classic [situation] in the American policy: do not abandon your people, because you could be next. In a certain moment, all your 'king's men' could abandon you," Vasiliev said, adding that White House spokesman Sean Spicer has also been subjected to attacks from Trump's political opponents.
For his part, Eskin also believes that Flynn's ouster seems to be a "gross mistake" on Trump's part.
"I am deeply convinced that if Trump doesn't stand this siege and starts taking away bricks from his own ideological building, he will not keep his position,"
Eskin warned.
"I will dare to say that first of all President Trump should find out
who the people behind the illegal leaks of classified information
regarding the conversations of General Flynn with the Russian Ambassador were," the Israeli publicist noted.
Commenting on the clouds gathering on Trump's horizon, Vasiliev drew historical parallels between the ongoing anti-Trump campaign and the 1974 impeachment of former US President Richard Nixon.
"Nixon was isolated, a negative opinion about him was created among [Americans], his own party and close associates forced Nixon to resign," Vasiliev recalled.
The question then arises whether Trump will be able to avoid the Democrats' trap and at what cost.