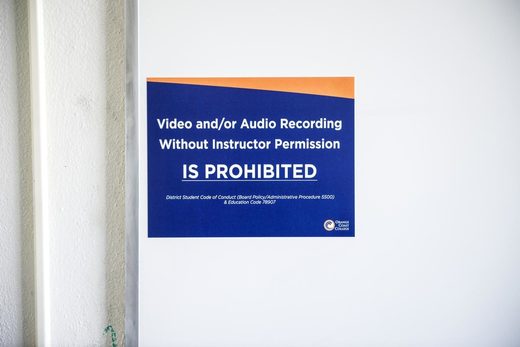 An Orange Coast College student who exposed his professor's anti-Trump screed during a sociology class is now suspended from the California school for two terms.
Community college officials contend student Caleb O'Neil violated school policy against recordings on campus without the person's knowledge when he recorded professor Olga Perez Stable Cox's anti-Trump tirade in a human sexuality class following presidential election, The Orange County Register reports.
The recording, posted online by three members of the College Republicans after school officials refused to take action, featured the 66-year-old gay Latina instructor explaining how Trump's win equates to an "act of terrorism. We have been assaulted. It's an act of terrorism," Stable Cox said. "One of the most frightening things for me, and most people in my life, is that the people who are leading the assault are among us."
Stable Cox referred to Trump as a "white supremacist" and Vice President Mike Pence as "one of the most anti-gay humans in this country," according to the
Daily Pilot
.
Students in the class alleged Stable Cox asked Trump supporters to stand and identify themselves in the class after her diatribe, and when nobody did, she mocked Trump voters as cowards, students told
Fox News
.
Orange Coast President Dennis Harkins said when the video surfaced in December that administrators would investigate the professor's comments, but officials have since refused to discuss the issue, the
Register
reports.
They apparently were more focused on O'Neil.
Victoria Lugo, interim dean of students, laid out the 19-year-old's punishment in an email last week: a two semester suspension - current term and summer term.
O'Neil must also write an apology letter to Stable Cox, as well as a three-page essay about the incident.
"To be allowed back in school, the letter says, O'Neil's essay is to be three pages and double-spaced and must discuss why he videotaped the professor," the
Register
reports. "Also, the essay is to cover his 'thoughts and analysis' on why he decided to share the videos, what he thought would happen to Cox and 'the impact of the video going "viral" and the ensuing damage to Orange Coast College Students, faculty and staff.'"

Comment: The professor should do the same as 'punishment' for her inappropriate diatribe.


O'Neil's attorney, William Becker, said his client can continue classes while they appeal the decision. He contends the school violated O'Neil's legal rights.
"This is an attack by leftists in academia to protect the expressive rights of their radical instructors at the expense of the expressive rights of conservative students on campus," he told the
Register
.
The school's faculty union pressed for action against students who exposed Stable Cox, and president Rob Schneiderman said he's content now that "someone is being held responsible."
The student's punishment followed signs posted on the Orange Coast campus last week that read: "Video and/or audio recording without instructor permission is prohibited," according to the
Daily Pilot
.
"One of the things it's doing is suppressing students from reporting faculty wrongdoing," said Joshua Recalde-Martinez, member of the Orange Coast College Republicans who exposed Stable Cox. "Another is producing a huge inconvenience to those who otherwise regularly record classes."