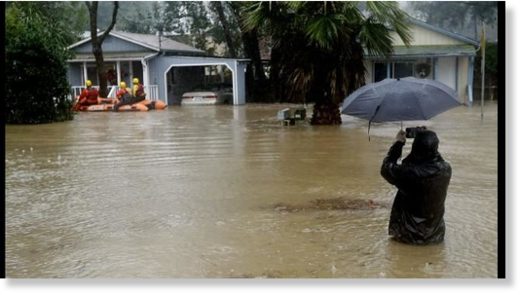 Heavy rain and rapid snowmelt in the Sierra Mountains has led to widespread flooding in parts of Nevada and California, triggering numerous mudslides and road washouts. In Oroville, water opened up a massive hole in a dam.
Officials shut down flow from the Oroville Dam after chunks of concrete went flying from the spillway and created a 200-foot-long, 30-foot-deep hole on Wednesday. Officials stopped the water after noticing it was flowing irregularly and the erosion became apparent with the water held back.
The dam break poses no threat to the public but is
expected to grow
before engineers can make the necessary repairs, according to the Sacramento Bee.
High snow levels across parts of California and western Nevada have led to rain falling on areas where feet of snow have fallen in recent weeks, prompting flooding near the Sierras and in the central valley.
The final in a series of storms is making its way into the West Coast Thursday and Friday, said weather.com meteorologist Chris Dolce. Flood watches and warnings are posted from parts of Washington and Oregon southward into northern and central California.
Slideshow
Residents along the Russian River north of San Francisco stacked sandbags to protect their properties from the latest onslaught, while a number of schools in Marin County closed Thursday due to severe weather and related safety concerns, reports the AP.
With the ground already saturated, the risk of additional landslides and flooding will remain elevated to close out the week, Dolce said
Nevada
The Elko Sheriff's Department in Nevada said
the record rapid snowmelt and subsequent flooding is a "life-threatening" situation
. Authorities have warned motorists to refrain from driving on flooded roads.
A mudslide on I-80 in Reno shut down the westbound lanes of the highway on Wednesday. The lanes were reopened early Thursday.
Coupled with a major storm that dumped more than a foot of new snow in the Sierra Nevada on Tuesday, heavy rain in lower-lying areas triggered flooding and mudslides in the valleys around Reno and Carson City, according to the Associated Press.
The National Weather Service issued avalanche, flooding and high wind warnings along the eastern front of the mountains.
A mudslide closed part of Interstate 80 over Donner Summit near the California-Nevada state line on Tuesday. The interstate was partially reopened early Thursday.
Streets became flooded in Carson City due to the heavy rains that also triggered a mudslide that temporarily closed southbound U.S. Highway 395 at the U.S. 50 on-ramp. Another mudslide blocked part of Highway 89 in California north of Reno.
U.S. Highway 50 east of Carson City near Silver Springs was closed because of high water, while high winds in Fernley downed a tree and a power line closed a section of State Route 828.
Central California
An
earthen dam broke Wednesday
north of Montello, prompting a flash flood warning for residents living downstream, reports the Elko Daily Free Press.
"Residents living in Montello and near and downstream of Twentyone Mile Dam and Thousand Springs Creek should take immediate action to protect life and property," the National Weather Service warned Wednesday afternoon.
A Los Gatos woman turned to Facebook Live
to seek help after a mudslide took out three homes
on her family's property, reports Fox2.
Jennifer Ray said no one was injured but the homes are now uninhabitable.
"All of this water and mud came down and trees and it was just this force of nothing that I've never seen before," Ray told the news station.
A mudslide in Shasta County shut down the southbound lanes of I-5 near Lakehead Wednesday evening.
A driver drove his van into a 100-foot gap in Skyland Road near the Santa Cruz mountain summit Tuesday night after heavy rains washed out the road. The driver told KSBW that the road was fine when he left his home to buy candles. By the time he returned home, the road was gone.
A mudslide Tuesday morning destroyed the family home of John Futscher, 51, in San Rafael.
Futscher told the
San Francisco Chronicle
that his father built the home in 1959, and he
watched as the mud slowly tore the house in two
.
"The windows were shaking, and they popped out," Futscher said. "Then, there was finally another big slide where it just came down and pushed the house forward and sheared the house."
Neighbor Nick Curcio told the newspaper "the whole hillside was just coming down into this guy's house. And it kept going and going."
After Friday, the West will dry out for several days before another potentially wet pattern arrives mid-to-late February.