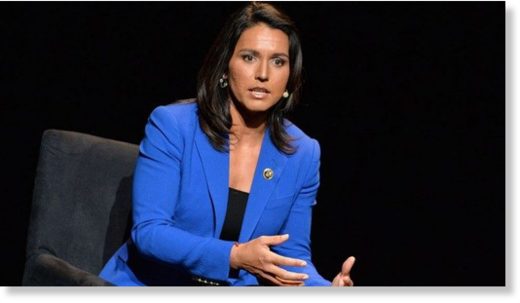 Allies of Rep.
Tulsi Gabbard
are pushing back hard against sharp attacks accusing the Hawaii Democrat of legitimizing a tyrant by meeting with Syrian President Bashar Assad.
Those who joined Gabbard on her swing through the Middle East this month — including former Rep. Dennis Kucinich (D-Ohio) — said the trip was simply a "fact-finding" mission designed to bring a peaceful end to the bloody civil war that's devastated Syria for more than five years.
Gabbard's judgment that current U.S. policy is only inflaming the conflict is correct, they say, hailing her as a courageous voice taking on the entrenched interventionist forces of Washington.
"She is absolutely, 100 percent spot-on," Kucinich said Friday by phone. "In Washington, truth is never decided by consensus; truth stands on its own. And she's telling the truth."
Bassam Khawam, who joined the trip and sits on the board of the sponsoring group, the Arab American Community Center for Economic and Social Services (AACCESS) in Ohio, also rejected the attacks on Gabbard as "rhetoric" from critics who sit comfortably in Washington without understanding events on the ground.
The visit offered "a tremendous chance" to meet with all sides of the conflict, he said, including people on the street, refugees, hospital patients and migrants who have moved from regions controlled by terrorists to those governed by Assad.
"I wish other politicians would do that, because that's the only way you can get the real picture," Khawam said Friday. "It's fine and dandy to say, 'Yeah, he's a dictator, yeah, he's a killer ... and say the whole country's going to hell. It's fine [but] it's all rhetoric.
"The bottom line is, let's dissect all that and find out what the real truths are," he added. "And that was our hope."
Gabbard's seven-day trip to Lebanon and Syria, taken unbeknownst to leaders on Capitol Hill, has sparked a firestorm of controversy since she revealed Wednesday that it included a meeting with Assad. The Syrian leader has long been accused of employing brutal tactics to keep his grip on power, including the use of torture and chemical weapons on his own people. Under President Obama, U.S. policy aimed to topple the Syrian leader, considering him a barrier to peace.
Gabbard has said the Assad meeting was not scheduled, but she took the "opportunity" in order to get a perspective from all sides of the conflict as U.S. policymakers wrestle with ways to resolve it.
"Whatever you think about President Assad, the fact is that he is the president of Syria," she told CNN Wednesday. "In order for any peace agreement, in order for any possibility of a viable peace agreement to occur, there has to be a conversation with him."
The argument hasn't won much support on Capitol Hill, where lawmakers of both parties lashed out this week, accusing Gabbard of undermining U.S. foreign policy and validating Assad's place in power.
"The actions of Congresswoman Gabbard have put our nation's reputation and foreign policy concerns at high risk and I couldn't be more disgusted," said Rep. Adam Kinzinger (R-Ill.), who like Gabbard is a veteran of the Iraq War.
The offices of Reps. Ed Royce (R-Calif.) and Eliot Engel (D-N.Y.), the leaders of the Foreign Affairs Committee, on which Gabbard sits, launched similar denunciations.
But Gabbard's allies say one of the central roles of congressional lawmakers is to explore issues fully before crafting policies around them.
"We have a responsibility to find out what's going on. How can you do that without meeting the people who are in charge?" said Kucinich, a former presidential candidate and longtime peace advocate.
"We meet all the time with people ... whose policies we object to. That's what members of Congress do."
Gabbard, he said, "asked some very tough questions" of Assad. Khawam echoed that message.
"She was asked if she might be able to meet, and she figured, 'Well, what the hell? You know. Let's hear it from the horse's mouth, from the guy who's ... there in power' " he said. "You talk to people you disagree with, you don't talk to your friends."
Gabbard's position on Syria is hardly new. In 2014, when Congress passed a two-year extension on military aid to Syrian opposition forces, she hammered the decision as a misguided prescription that would only arm terrorist groups hostile not only to Assad but also to the United States and its democratic allies.
"The claim that the majority of people fighting against the government are 'moderates' is completely false,"
she said
at the time, arguing that "the most powerful opposition groups" are in fact al Qaeda and the Islamic State.
In November, she was a rare Democrat to meet with Donald Trump during his transition in New York, where she pushed a bill she's sponsored that blocks any U.S. aid to terrorist groups.
Kucinich said that in Syria, what began as "a legitimate protest movement" in 2011 was "usurped" by foreign jihadists who have "attempted to take over the government [and] install a Wahabi caliphate in Damascus." With that in mind, he said. Gabbard's legislation is wholly necessary.
"There's just no question that U.S. resources — money and armaments — have either been given to or fallen into the hands of groups whose philosophy is inimical to that of the United States of America," he said.
"The legitimate opposition in Syria was annihilated by these jihadis who were coming in from all over the world, and their interest wasn't freedom for the people of Syria, it was actually the opposite. It was to enslave the people of Syria in a doctrine that's associated with Wahabism, and actually to destroy a society that has pluralistic values.
"Congresswoman Gabbard," he added, "has had the courage to go forward and find out what's going on."
Gabbard's trip has stirred additional controversy after the Daily Beast
published
a report Thursday stating that Khawam is linked with the Syrian Social Nationalist Party (SSNP), "a political party and paramilitary organization ... currently actively engaged in the Syrian civil war on the side of the Assad regime."
Both Kucinich and Khawam rejected the report outright.
"That's so much horseshit I can't believe it," Kucinich said. "That's repugnant."
"Total garbage," echoed Khawam, denying any association with the SSNP. "They're going to be hearing from our lawyers about all of this."