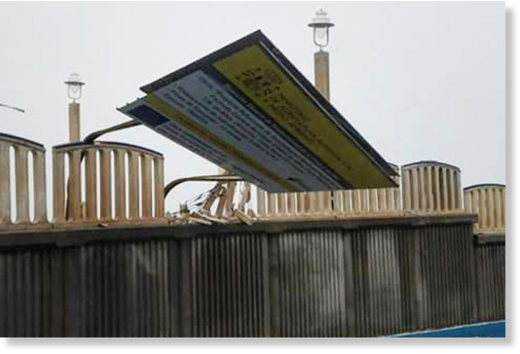 Freak weather including hurricane force winds, an earthquake and hailstones the "size of golf balls" wreaked havoc in the Costas as the Spanish holiday hotspots face the worst recorded winter for more than 50 years.
Benidorm, Alicante, Costa Blanca and Majorca were hit with snow last week as the sunny destinations were in the freezing firing line for the bitter blizzards.
Now Benidorm has been rocked by the rumblings of an earthquake at 3am as hurricane force winds and torrential rain battered the Costa Blanca.

The town of Altea was struck with powercuts as the storm raged.
Disappointed holidaymakers and residents took to Facebook to share their terror as the freak weather sparked chaos.
One sun dweller wrote: "The Benidorm area continues to receive the worst recorded winter weather for over 50 years.
"With hailstones the size of golf balls, causing damage."
There was "lots of damage" reported by the high winds, he explained.
Many people are sharing their holiday dates on Facebook in the hope the weather will improve.
But Brits heading to the hotspot are feeling the chill as Britain is on course to be hotter than Spain this week.
Andy added: "Benidorm last night also had a earthquake.
"Mother Nature has flexed her ample muscles over the last 72 hours.

"Hurricane force winds coupled with continuous torrential rain have battered the whole of the Costa Blanca.

"This is the state of Altea this morning, with power still on and off and the storm still raging.
"The controversial new beach, years in planning, millions of euros spent reduced to a pile of rubble by the relentless 4 metre high waves crashing onto the unprotected shore."
The Benidorm earthquake was registered as 1.7 on the scale.