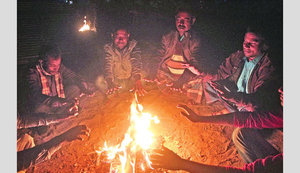 The cold wave sweeping across the country for the last several days has paralysed life. The countrymen, especially the poor people of the northern region, are suffering most due to lack of warm clothes.
According to met office sources, mild to moderate cold wave is sweeping over Rangpur, Rajshahi and Khulna divisions and the regions of Tangail, Faridpur, Madaripur, Gopalgonj, Barisal, Bhola and Srimongal.
Monday's minimum temperature at Dinajpur was 7.8 degrees Celsius while it was 9.4 degrees in Rangpur, 8.5 degrees in Syedpur, 7.2 degrees in Rajarhat (Kurigram), 7.2 degrees in Dimla (Nilphamari), 6.4 degrees in Tetulia (Panchagarh), 9.7 degrees in Bogra, 7.6 degrees in Rajshahi, 6.6 degrees in Chuadanga, 7.4 degrees in Jessore, 9.8 degrees in Khulna and 9.0 degrees in Barisal, Met office sources said.
On Friday, the minimum of 6.6 degrees Celsius temperature was recorded in Rangpur. The people of the region, mostly the poor and ultra-poor, are suffering immensely. It has been learnt from Rangpur district relief and rehabilitation office that 50 thousand blankets had been distributed among the poor in eight upazilas. More 20,000 blankets are still required for the needy.
Sources said the children and the elderly people are suffering from various cold- related diseases. A huge number of patients is thronging the hospitals. The people of villages and char areas are in great misery as they could not go to work outdoors due to severe cold and heavy fog.
The people of Kurigram district have been experiencing biting cold for the last few days as the temperature fluctuated between 5 and 7 degrees Celsius. On Sunday, the lowest temperature recorded at 6.6 degrees Celsius in Kurigram. People's sufferings knew no bound. By the evening, the roads and streets became deserted on Monday.
M A Wadud, an employee at a private farm at Phulbari in Kurigram said, "We have been experiencing severe cold for the last four days. The cold becomes unbearable at night. We worked wearing warm clothes for the whole day. By the evening, people left for homes from bazaars and markets."
"At a local doctor's chamber on Monday, I witnessed that a good number of mothers had come to visit the doctor with their ailing children in their laps," he said.
Md Nawjesh Chowdhury, a physician practicing in Modern area of Rangpur, said people are suffering a lot due to biting cold of the last few days. "Children and elderly people are the worst sufferers," he said. "People are not going outside their houses without emergency. They need warm clothes on emergency basis so that they can protect themselves from the shivering cold," he said.