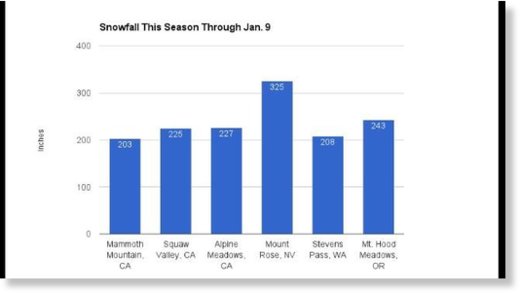 Snowfall has been prolific so far this month in the Sierra Nevada, which straddles the border between California and Nevada.
The feet of snow that have piled up in recent days in multiple atmospheric river events vaulted snowfall totals this season over 200 inches at the highest elevations.
Alpine Meadows, Mammoth Mountain, Mount Rose and Squaw Valley are among the locations that have seasonal snowfall totals that have topped the 200-inch benchmark through Jan. 9, according to data on each of the ski resort websites.
One of those resorts, Mount Rose in the Lake Tahoe region, is reporting
more than 300 inches of snow for the season.
Farther north in the Cascades of Oregon and Washington, Mount Hood Meadows and Stevens Pass have also racked up more than 200 inches of snow this winter.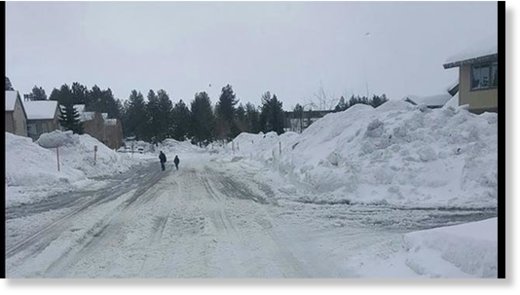 The Sierra Nevada and the Cascades to their north have reputations for epic snowfall totals during the winter because of the Pacific storm systems that ram their moisture into the western facing slopes of those mountain chains during the wet season. Huge amounts can fall in a short amount of time when persistent wet weather patterns set up like they have so far this month.
In the three days through Jan. 9, Mammoth Mountain received 58 to 101 inches depending on elevation,
according to the ski resort's website.
Squaw Valley says it received
94 inches in the seven days through Jan. 9.
The totals will continue to grow through Thursday as more moisture pipes through the region.
Squaw Valley and Alpine Meadows have already reached or exceeded their totals for the entire drought-plagued winter of 2014-2015. Last season things rebounded in the Sierra, and those resorts saw more than 400 inches from November into May.
Impressive looking map of the current snow depth in the Sierra as analyzed by NOAA. pic.twitter.com/TcpeeCYX41

— Chris Dolce (@chrisdolcewx) January 10, 2017
How much snow can fall in a given season?
Mammoth Mountain saw 668.5 inches of snow in the 2010-11 season
, and
Squaw Valley picked up just over 800 inches
during that same snow season.
The greatest seasonal snowfall total in the U.S. was recorded in the Washington Cascades at Mount Baker. A total of 1,140 inches, or 95 feet, of snow fell there during the 1998-99 snow season.