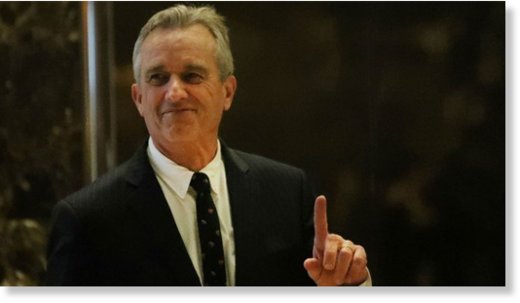 Robert F. Kennedy Jr., a noted vaccine skeptic, has accepted President-elect Donald Trump's offer to chair a commission to investigate vaccine safety, Kennedy told reporters Tuesday.
Kennedy told reporters in the lobby of Trump Tower in Manhattan about the forthcoming position after a meeting with the president-elect. "He asked me to chair a commission on vaccine safety and scientific integrity ... I said I would," he said. "
President-elect Trump has some doubts about the current vaccine policies and he has questions about it. His opinion doesn't matter, but the science does matter and we ought to be reading the science and we ought to be debating the science."
He added that Trump called him to request the meeting and that he wants to ensure that vaccines are "as safe as they possibly can be."
Kennedy, son of the famous attorney general and nephew of former President John F. Kennedy, is a vocal critic of vaccines and regularly expresses concerns that certain preservatives in vaccines could cause developmental disorders or other negative side effects. He told a
Sacramento
audience in 2015 that drug companies can "put anything they want in that vaccine and they have no accountability for it."
Later that night, he also floated a connection between vaccines and autism, while calling the effects of vaccines a "holocaust." Scientists have repeatedly shot down any accusations about a link between vaccines and developmental disorders like autism, noting that there are various safeguards to ensure vaccines aren't dangerous.
The
Centers for Disease Control and Prevention
believes there is "no link" between autism and vaccines, and points to a number of studies that back up that assertion. Yet, the belief remains on the fringes of both the political left and right, boosted by some prominent celebrities.
As Kennedy suggested, Trump has repeatedly entertained a link between vaccines and autism,
sharing
a story in 2014 about a "healthy young child" developing autism after vaccinations.
He went on to clarify his stance during a September 2015 GOP primary debate, where he said that he is "totally in favor of vaccines ... in smaller doses over a long period of time."
But he did note that autism is an "epidemic" and retold another story of a toddler allegedly developing autism after being vaccinated.