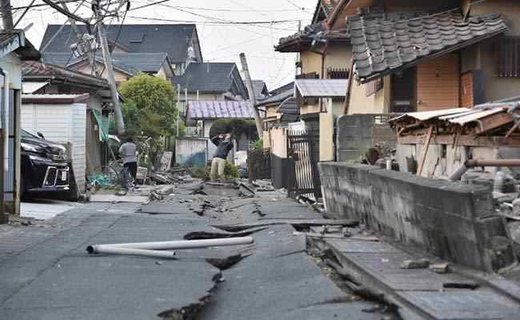 The number of noticeable earthquakes that struck Japan in 2016 exceeded 6,500, three times more than in the previous year
, the Japan Meteorological Agency said Friday.
As of 7 p.m. on Thursday, a total of 6,566 quakes with an intensity measured on the Japanese seismic scale hit the archipelago, up from 1,842 in 2015, according to the figures revealed on Friday.
The JMA scale used to measure the intensity of earthquakes runs from zero to seven, with zero being the weakest, and focuses more on the affected areas than on the intensity of the tremors as is the case with the Richter scale, Efe news reported.
More than 10,000 earthquakes struck the country in 2011, most of them aftershocks from the devastating earthquake that triggered the tsunami which led to the Fukushima nuclear disaster, the worst since Chernobyl.
Although the number of quakes has decreased considerably since then, the Japanese agency said the increase this year could be attributed to the powerful earthquakes that struck the Kumamoto prefecture in the southern island of Kyushu in April.
The first of the quakes, measuring 6.5 on the Richter scale and 5 on the Japanese scale, struck the region on April 14.
This was followed two days later by another quake of magnitude 7.3, which killed around 50 people and caused extensive material damage.
During that month alone, over 3,000 tremors struck southwestern Japan.
According to JMA's data, 33 earthquakes reached lower and upper level 5 or more on the scale this year.
The most recent one took place on Wednesday night, when a 6.3 magnitude earthquake hit the Ibaraki region where it reached an upper level 6 on the Japanese scale without a tsunami alert being issued or any reports of damages.