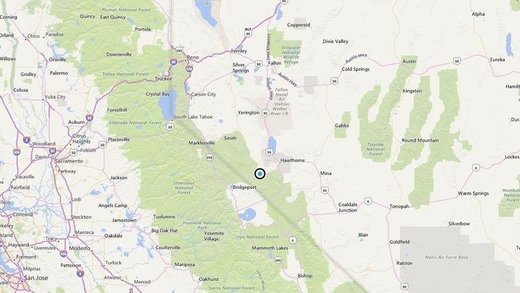 A series of earthquakes were reported Wednesday morning near the Nevada-California state line, according to the U.S. Geological Survey.
The first temblor occurred at 12:22 a.m. Pacific time with a magnitude of 5.7 near Hawthorne, Nevada.

At least seven quakes with magnitudes between 3-5.6 were reported shortly after.
Light shaking was felt as far away as South Lake Tahoe, Fresno, Visalia and Merced.
The California governor's Office of Emergency Services was assessing, but no serious injuries or damages were immediately reported.
According to the USGS, the epicenter was 56 miles from Gardnerville Ranchos, Nevada, 69 miles from South Lake Tahoe, California, 70 miles from Carson City, Nev., and 84 miles from Fernley, Nev.
In the past 10 days, there have been eight earthquakes of magnitude 3.0 or greater centered nearby.