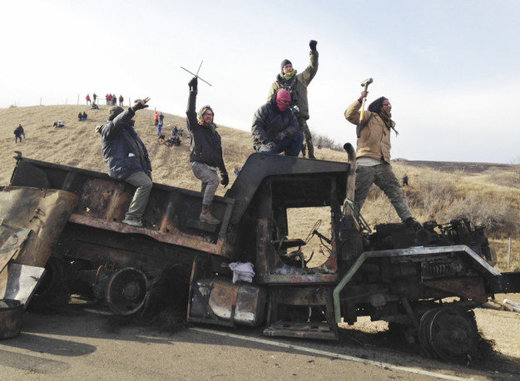 The US Army Corps of Engineers on Sunday announced they will no longer allow the Dakota Access Pipeline to cross under a lake near the Standing Rock reservation in North Dakota, marking a huge win for Native Americans and protesters who had long opposed the construction.
"Today, the US Army Corps of Engineers announced that it will not be granting the easement to cross Lake Oahe for the proposed Dakota Access Pipeline," Standing Rock Sioux Tribal chairman Dave Archambault II said in a
statement
sent to BuzzFeed News. "Instead, the Corps will be undertaking an environmental impact statement to look at possible alternative routes.
"We wholeheartedly support the decision of the administration and commend with the utmost gratitude the courage it took on the part of President Obama, the Army Corps, the Department of Justice, and the Department of the Interior to take steps to correct the course of history and to do the right thing."
"It took tremendous courage to take a new approach to our nation-to-nation relationship, and we will be forever grateful," he said.
Assistant Army Secretary for Civil Works Jo-Ellen Darcy said she based her decision on a need to explore alternate pipeline routes.
"Although we have had continuing discussion and exchanges of new information with the Standing Rock Sioux and Dakota Access, it's clear that there's more work to do," Darcy said in a
statement
. "The best way to complete that work responsibly and expeditiously is to explore alternate routes for the pipeline crossing."
Energy Transfer Partners, the company building the pipeline, did not immediately respond to requests for comment.
Since August, thousands of demonstrators have camped at the Standing Rock site to stand with Native Americans in opposing the 1,172-mile long pipeline, which is designed to carry 20 million gallons of oil across the Midwest every day.
Tribe members and environmentalists feared damage to local water supplies and the desecration of sacred land.
They
argued in court
that the pipeline "crosses areas of great historical and cultural significance" and "crosses waters of utmost cultural, spiritual, ecological, and economic significance."
The tribe successfully mobilized national support, with
demonstrators marching in Washington DC
and elsewhere to pressure the government to abandon the construction.
Sunday's decision represents a huge win for the local tribe and their supporters, as well as a dramatic shift in the reaction of authorities, who had previously ordered all demonstrators to leave the campsite by Monday.
North Dakota Congressman Kevin Cramer, a Republican who supported the pipeline's construction, said "today's unfortunate decision sends a very chilling signal to others who want to build infrastructure in this country."
"Roads, bridges, transmission lines, pipelines, wind farms, and water lines will be very difficult, if not impossible, to build when criminal behavior is rewarded this way" he said in a
statement
.
But other lawmakers and officials praised the decision. Interior Secretary Sally Jewell
tweeted
that the decision "underscores that tribal rights are essential components to analysis of #DAPL going forward."
Vermont Senator Bernie Sanders also welcomed the announcement:
Attorney General Loretta Lynch said Department of Justice officials would continue to monitor the protests.
""The department remains committed to supporting local law enforcement, defending protestors' constitutional right to free speech and fostering thoughtful dialogue on the matter," she said in a statement. "We recognize the strong feelings that exist in connection with this issue, but it is imperative that all parties express their views peacefully and join us in support of a deliberate and reasonable process for de-escalation and healing."
At the Standing Rock reservation, Native Americans and protesters celebrated their victory.
"I'm just thankful that there were some leaders in the federal government who have realized that something is not right even though it's legal," Archambault told MSNBC.
"I would say that it's over," he said.