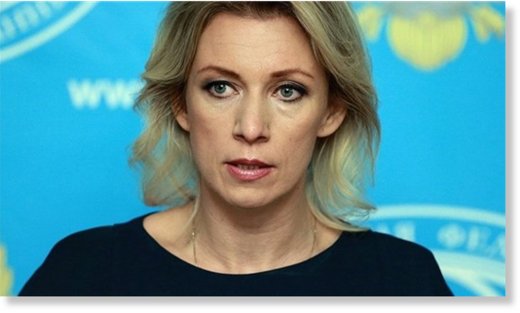 Russia said on Wednesday that the delivery of humanitarian aid by the UN in Syria is politicized as most UN help was going to militant-held areas.
Russia's Foreign Ministry spokeswoman Maria Zakharova told reporters in her press briefing in Moscow that only 1 percent of UN aid was being directed to Deir Ezzur, where she said at least 200,000 people were trapped by ISIL militants and in need of supplies, Sputnik reported.
Zakharova said Moscow has repeatedly introduced humanitarian pauses in Aleppo to help civilians however the militants use the truce to regroup and replenish arms and ammunition, stressing that such issue is politicized.
However, she said that Moscow is ready to work with all international humanitarian organizations on the issue of humanitarian aid delivery.
"We strongly believe that humanitarian issues should not become a tool for political pressure or serve as means of flirting with terrorists or shielding them."
On the other hand, she slammed White Helmets group over a Mannequin Challenge video, showing an alleged rescue of a Syrian civilian.
Zakharova reminded that White Helmets are nominated for the Nobel Peace Prize, while such footages are more suitable for Oscar.
The White Helmets, sparked online anger after the Revolutionary Forces of Syria Media Office (RFS) posted a video of them faking saving someone while doing the so-called "mannequin challenge," the viral video trend in which people are videoed while frozen in motion.
Zakharova commented on a controversial statement by UK Defense Secretary Michael Fallon, who said that the US under President-elect Donald Trump should not hold an equal dialogue with Russia.
"We have to distinguish between electoral campaign rhetoric and what is done in practice. In fact, every US administration has always been in a confrontation with Russia. We do not say that there should not be any dialogue with Russia, but Russia could not be treated as an equal partner. Russia has obviously violated the international law by what it has done in Ukraine and Crimea and we will never forget this fact," Fallon said.
She said that it is inappropriate for any state to interfere in sovereign affairs of the US.
Zakharova was asked to comment on Turkish President Recep Tayyip Erdogan, who said that Turkey's operation in Syria is aimed to "put and end to the rule" of Syrian President Bashar Assad.
"What for? We do not lay claims to the Syrian lands... We are there to restore justice and put an end to the rule of cruel tyrant Assad," Erdogan said commenting on the Operation Euphrates Shield in Syria.
She said that Moscow is guided by Russia-Turkey agreements and official statements.
"In the context of the settlement of the Syrian crisis and bilateral relations with Turkey, we adhere to the agreements that we have reached at official level and directly with Turkish authorities." Ankara signed the International Syria Support Group's Agreements that say that there is no military solution to the Syrian conflict, Zakharova said.

"We rely on the statements that have been made repeatedly by Ankara, including the leader of Turkey, and which formed the basis of the agreements signed by the country."
The Russian Foreign Ministry's spokeswoman said that Ukrainian plans to hold missile firing drills near Crimea are a "provocation."
"As for the so-called exercises with missile launches, it is another large-scale provocation by Ukrainian authorities that is aimed to escalate the conflict between Ukrainian and Russia," Zakharova said.
She did not rule out that "after Donald Trump's victory in the US election, Kiev wanted to keep the US as its main patron."
Zakharova also pointed to the US-led coalition's deadly strikes on the Syrian Army in Deir Ezzur, saying that "there is no logic" in Pentagon's decision not to identify ISIL targets in Syria despite an "unintentional, regrettable error" when US-led coalition aircraft mistakenly bombed the Syrian army instead of ISIL in Deir Ezzur.
US Department of Defense spokesman Peter Cook said that the United States has no plans to work with Russia to identify ISIL targets.
On Tuesday, the Pentagon said that "in this incident, ultimately, we made an unintentional regrettable error primarily based on human factors in several areas in the targeting process."
However, the US Department of Defense said that Pentagon has no plans to work with Russia on the identification of ISIL targets.
On September 17, US-led coalition aircraft carried out four strikes against the Syrian army near the Deir Ezzur airport, leaving dozens of soldiers killed and many more were wounded.
The Pentagon said that the airstrike was a mistake and was intended to target ISIL militants, while a number of Syrian officials stated that the attack was intentional.