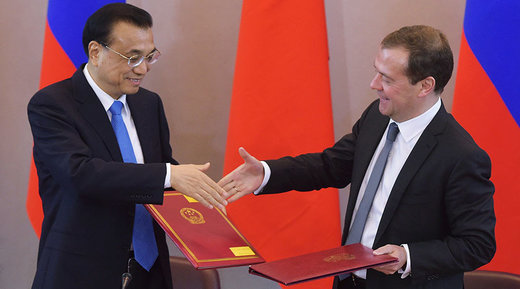 Economic cooperation between Russia and China is meeting expectations with more than $40 billion in trade this year, said Russian Prime Minister Dmitry Medvedev during a meeting with Chinese Premier Li Keqiang in St. Petersburg.
Moscow and Beijing will make additional efforts
to increase trade to $200 billion in next 3-7 years
, according to the Russian PM.
Medvedev says a preferential trade regime between the countries is being considered, which
would increase the use of national currencies
in settlements.
Li Keqiang is paying an official visit to Russia to discuss trade and investment ties, as well as cooperation in oil, gas and nuclear power.
Russia and China signed cooperation agreements in several areas such as economy and investments as well as cooperation in the nuclear industry.
A joint Russia-China Venture Fund will be established to develop trade, economic investment and scientific cooperation between the countries. The enterprise will reportedly sign the first project agreements as early as next year.
There will also be an intergovernmental commission on cooperation between Russia's Far East and China's North East, according to Medvedev.
"It was decided to set up a fifth intergovernmental commission, which will deal with the cooperation on the Far East of our country and in the north east of China, which shows the real scope of interaction," the Russian PM said.
At the meeting Russia's gas major Gazprom and the China Development Bank (CDB) signed an agreement on possible financing.
Vnesheconombank (VEB) signed an agreement with China's Development Bank to borrow nearly a billion dollars (six billion yuan) for 15 years. Russian state-run bank VTB also sealed several deals with the Chinese lender on trade financing in yuans for three and five years.
Russia's oil giant
Rosneft and China's Beijing Gas Group signed a cooperation agreement to sell a 20 percent stake in Verkhnechonskneftegaz
, which is exploring a large oil and gas field in Eastern Siberia. Rosneft controls 99.94 percent of the company.
A framework agreement was reached between Russian petrochemical leader Sibur, China's Silk Road Fund and China Development Bank. The deal includes the sale of share in the Russian company.