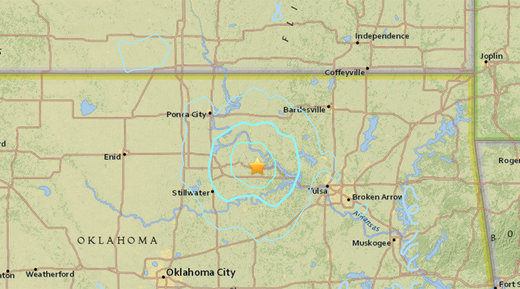 A 4.5 magnitude earthquake in Oklahoma shook some residents in the Wichita area late Tuesday night.
Residents in the Delano district, College Hill, Riverside, north, south and northwest Wichita said on Twitter that they felt it.
Kenneth Woodard e-mailed
The Eagle
and said: "Felt the bed sway back and forth several times... It was pretty shaky! Nothing fell off the shelves." He said he lives near Edgemoor and 13th.
The U.S. Geological Society initially
reported on its website
that a 4.1 magnitude earthquake occurred at 11:26 p.m. near Pawnee, Okla. Pawnee is about 90 miles north of Oklahoma City. It later upgraded it to a 4.5 magnitude.
According to the geological society's site, the quake was felt in Arkansas, Missouri and Texas. Besides Wichita, Kansas towns reporting include: Colwich, Derby, Fort Riley, Salina, Haysville, Pratt, Inman, Overland Park, Lawrence, Hutchinson, Hesston, Pittsburg, Topeka and Kansas City.