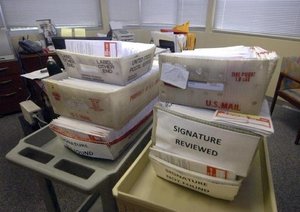 A 74-year-old woman tasked with opening envelopes sent by Miami-Dade County voters with their completed mail ballots was arrested Friday after co-workers caught her illegally marking ballots, resulting in an unknown — but small — number of fraudulent votes being cast for
mayoral candidate Raquel Regalado
.
Investigators linked Gladys Coego, a temporary worker for the county elections department, to two fraudulent votes, but they suspect from witness testimony that she submitted several more.
Coego, of Westchester, turned herself in to the Turner Guilford Knight Correctional Center on Friday morning. She was charged with two felony counts of marking another person's ballot. Coego was released after posting a $10,000 bond.
In a separate election-fraud case, authorities also arrested a second woman Friday on charges of unlawfully filling out voter-registration forms on behalf of United for Care, the campaign to
legalize medical marijuana
in Florida.
The Miami-Dade state attorney's office accused Tomika Curgil, 33, of filling out forms for five people without their consent. She also submitted at least 15 forms for people who apparently don't exist — and several forms for people who are dead.
Police officers arrested Curgil at her Liberty City home Friday morning and charged her with five felony counts of submitting false voter-registration information. Her bond was set at $125,000.
"Our law enforcement effort against these election law violators was swift and resulted in an immediate arrest of the wrongdoers," Miami-Dade State Attorney Katherine Fernández Rundle, a Democrat, said in a statement. "The elections department was quick to detect and report these violations to our task force."
"Anyone who attempts to undermine the democratic process should recognize that there is an enforcement partnership between the elections department and our prosecution task force in place to thwart such efforts and arrest those involved. Now we need to move forward with the election."
The cases were investigated by her office's public corruption task force, which comprises police officers from several jurisdictions, including Miami-Dade, Miami, Miami Beach, Doral and the Miami-Dade school district. The task force is headed by prosecutor Tim VanderGiesen.
The arrests come as Republican Donald Trump has claimed the presidential election is "rigged" to favor Democratic rival Hillary Clinton. There
is no evidence
of the widespread, systematic election fraud that would be required to swing a national election, though the Miami-Dade arrests show small, isolated cases of perpetrated or attempted fraud exist.
Coego's job was to remove mail ballots from envelopes, count the number of pages and check for any tears or stains before someone else introduced them into an optical scanner to tabulate the votes. Miami-Dade started tallying mail ballots Monday, as allowed by Florida law.
According to Coego's arrest affidavit, she sat by herself behind a back table in a room with about 80 other workers. Another temp worker, identified as "S. Tremmel," saw her illicitly mark three ballots Tuesday, pulling a black pen out of her purse each time. She "would hide the pen in her purse whenever a supervisor or other employee came near," Tremmel told investigators.
At first, Tremmel said he was unsure of what he had seen, but after the third time, he reported Coego to Javier Vazquez, an elections computer technician, who in turn contacted a supervisor, Tabulation Manager LaRhonda Wimberly. She covertly watched Coego and "after only a short time, she observed Coego take a black pen from her purse and begin to mark a ballot." Wimberly confronted Coego, confiscated the ballot and escorted Coego out of the room.
The confiscated ballot had been filled with blue ink — except for a single mark in black for Regalado for mayor. Deputy Elections Director Rosy Pastrana examined all the ballots that had been in Coego's possession since Monday and found an unspecified number "that appeared to have been altered" because only the Regalado bubble had been filled out in black.
Coego admitted what she had done, but what she actually said has been redacted from the affidavit. She denied any connection to Regalado, and Regalado denied any connection to her.
"I don't know this person. It has nothing to do with me," Regalado told the Miami Herald shortly after news of the arrests broke. Regalado said she had learned of the busts Friday morning. "We've looked into it. The police have looked into it. There are no ties."
A man who answered Coego's door Friday morning and identified himself as her son-in-law would not give his name. He described Coego as a grandmother. "I don't have anything else to say," he said, asking for privacy.
Coego does not appear to have contributed to or been paid by any Miami-Dade or Florida candidate, according to county and state campaign-finance records. She is registered without party affiliation.
Regalado, a Republican, is running for the nonpartisan mayor's post against incumbent Carlos Gimenez, who is also a Republican. As strong mayor, Gimenez appointed Elections Supervisor Christina White and is ultimately in charge of her department.
Since Tuesday, White said she has added more supervisors and more security guards to monitor the ballot-opening. Workers who had previously been banned from putting personal items on the table with the ballots will no longer be able to keep any personal items within reach.
"I want our voters to remain confident because our procedures clearly work," White said. "The safeguards that we have in place to patch these things have proven successful. They should remain confident that their vote is going to count as they intended."
On Thursday,
Regalado sued
to boot Gimenez off the ballot, contending he should be disqualified because he initially wrote the wrong date on his candidate-qualifying check. She said Friday that the arrests were further evidence that Gimenez has done a poor job overseeing the elections department, which she contends is plagued by irregularities.
Gimenez scoffed at the suggestion, saying the elections department and public corruption unit made "a great catch."
"I'm happy that they did catch it, and that these two individuals will be brought to justice," he said. Because he is a candidate, Gimenez said he is leaving any additional controls to White and Deputy Mayor Alina Hudak.
He added that he is not worried about the election result.
"We think that she confessed to bubbling in Raquel Regalado on five ballots that were under-voted," Gimenez said. "I don't believe that's going to have much of an effect on the race."
A recent poll showed Gimenez beating
Regalado
, a sitting Miami-Dade school board member and the daughter of Miami Mayor Tomás Regalado, by 22 percentage points.
In the second fraud case, Curgil ostensibly registered voters for People United for Medical Marijuana, the political committee financing the "Yes" campaign for Amendment 2. On Oct. 12, according to Curgil's arrest affidavit, the elections department flagged one of Curgil's batches of forms as suspicious because all the registrations appeared to have been filled out and signed by the same person.
"In some cases we were seeing that these people were already in the system but had a status of 'deceased,'" White said.
The fraudulent forms had been initialed "TC."
Investigators placed Curgil, a Democrat, under surveillance on Oct. 18, the last day to register. After dropping off her kids at school, Curgil stayed home all day. Investigators didn't see her sign anyone up, though they did see her twice turn over forms to two other women working for the campaign. One of them, Jennifer Jean, the campaign's deputy regional manager, dropped off the forms at the elections department.
Curgil had initialed 22 of the forms. Seven contained the names of real people. The names on the remaining 15 appeared to have been invented.
Investigators reached five of the seven real people listed. None had any idea the forms had been submitted on their behalf. Four of them were already registered. One was a felon barred from voting.
On Wednesday, investigators confronted Curgil. She confirmed the applications had come from her, but said she didn't remember working Oct. 18. The affidavit shows she "admitted" to something, but those details have been redacted.
"Curgil denied signing the voter registration applications in question in the signature box designated to be signed by the applicant," the affidavit says.
A man who answered the door at Curgil's maroon-and-beige stucco home in Liberty City said her family wouldn't discuss her arrest.
Like Coego, Curgil's name does not appear as a contributor or payee on county or state campaign-finance databases.
The medical-marijuana campaign paid canvassers by the hour, not by the form, campaign manager Ben Pollara said, but workers were expected to meet certain targets to be hired week after week.
"We've submitted a little more than 15,000 forms that we believe to be good voter registrations" across the state, Pollara said. "Then we submitted another few thousand voided that we believed not to be good but that we were legally obligated to submit."
Florida law requires forms to be turned in once they've been filled out, even if campaigns suspect the information to be wrong. Some marijuana campaign canvassers were fired for submitting bad forms, according to Pollara, who added the campaign reached out to prosecutors Friday to offer any needed cooperation.
Every time people return VRs to their managers, there's a process in place where the managers would check them for having similar handwriting or signatures, would check them against the existing voter file," he said. "But some bad ones slip through the cracks."