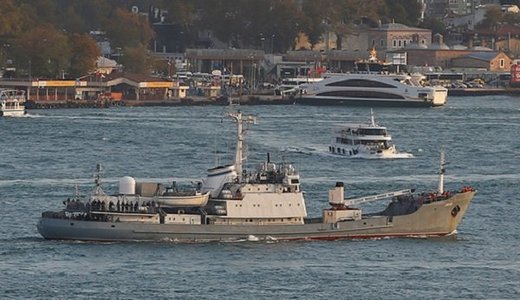 For decades now, Israel has enjoyed decisive aerial superiority over all its rivals in the Middle East. There is no doubt that the
Israeli air force
is the strongest in the region and
one of the most advanced in the world
. As such, it has benefited for decades from an almost absolute monopoly over all of the other players in the region.
Ever since the signing of the peace agreement with Egypt in 1979 and Egypt's exit from the circle of hostility, the Israeli air force has had absolute freedom of operation.
This reached its climax with the bombing of an Iraqi nuclear reactor (
Operation Opera
) in 1981, the bombing of a Syrian nuclear reactor (according to foreign news sources) in 2007, multiple bombings of arms convoys moving from Syria to Lebanon over the past few years, similar
bombing runs in Sudan
(also according to foreign sources) and other clandestine operations wherever there are Israeli interests of some sort or another.
Over the past few months, however, Israel has woken up to a troubling new reality.
That freedom of operation, which its air force once enjoyed with absolute impunity, is now dependent on a foreign factor, which is out of Jerusalem's control. What began as aid to the
Bashar al-Assad regime
in its struggle to survive has become a massive Russian military presence along Israel's northern border.
The Russians have recently tightened their control over the region significantly in all matters concerning control of the air. As of now, Israel lacks any fighter jet that can take off without setting off a flashing light in the Russian aerial defense headquarters in Tartus (a coastal city in Syria) or on a Russian ship in the Mediterranean Sea.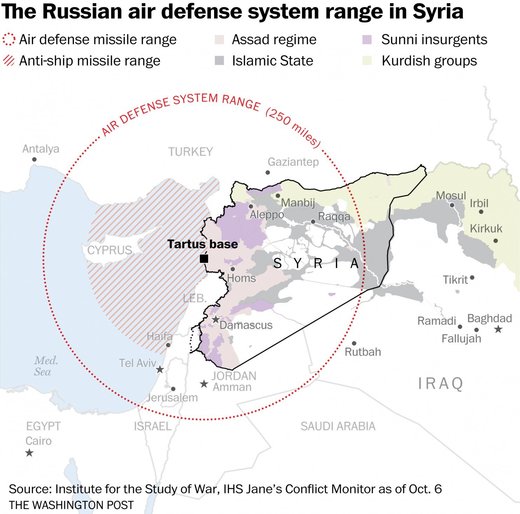 On Oct. 17,
The Washington Post
published a map
that underscores the vast range of Russian missiles in the Middle East, ever since Russian President Vladimir Putin established a powerful foothold in Syria. As the map shows, the entire eastern Mediterranean basin — from Turkey in the north, Syria and Lebanon in the east, and Israel in the south — lies within the range of Moscow's missile boats in the region. Air coverage is even more extensive, covering sizable chunks of Syria, Iraq, Jordan, Lebanon, Turkey and, of course, Israel. The S-300 and S-400 missile systems that Russia put in place cover all of Israel up to the southern Negev. Russian radar will immediately lock on Israeli jets taking off from any base, except for the Uvda air force base near the southern city of Eilat, and their flight patterns will be under constant surveillance. That is how the Russians keep an eye on the Israeli air force's activities over "hotspots" along the borders between Syria and Lebanon. Should he want to, Putin can simply push a button and turn the lives of Israeli pilots and the commanders who sent them on
offensive strikes in Syria
into a living hell.
It is now obvious that this development was anticipated by the Israeli security system and, as a result, by the country's political leadership, too. The "
Russian romance
" of the last year encompassing Prime Minister Benjamin Netanyahu, his senior ministers and some Israel Defense Forces (IDF) officers is intended to respond to these exigencies: keeping its fingers on the pulse of the situation, tightening coordination between Israel and Russia insofar as possible, and attempting to gain control of the situation.
But this romance doesn't provide any real rewards. The Russian-Israeli coordination system, which has been reported on many times, is neither intimate nor specific. It is simply intended to avoid any problems, accidents or violent encounters.
According to senior Israeli sources, the Russians do not report in advance on their aerial operations adjacent to the Israeli border. They have even penetrated Israeli airspace on several occasions, though this was
done by mistake
, earning them a "celebrity discount" (with Israel not firing at these penetrating airplanes).
As a rule, Israel's aerial defense system immediately shoots down anything that penetrates its airspace, no matter what the size or type. In these particular cases, however, it stood at taut attention and did absolutely nothing.
In fact,
earlier articles
published here reported that the Israeli air force has made it quite clear that Russian aircraft penetrating its airspace will not be shot down. The reasons for that are obvious.
At this stage, the growing Russian presence along its northern border can be described as a complicated problem as far as Israel is concerned. The scope of the Israeli air force's operations has declined. The official list of considerations before launching a bombing or intelligence-gathering run over Syria or Lebanon — or any run there for that matter — has been inflated by many new variables.
Furthermore, Russia now functions as the main component of what in Israel is known as the "axis of evil," which includes Iran, Syria and Hezbollah in Lebanon. Russian involvement has spared this axis from what looked like a resounding defeat in the campaign in Syria. One of the resulting consequences of this development is the significant impact that Russian involvement has had on Hezbollah.
Hezbollah's transition from a mid-sized terrorist organization into a
group with the military capacity of a state
has accelerated over the past year. Close cooperation with the Russians provides Hezbollah with invaluable knowledge and experience. While the group has been worn down in Syria and is now bleeding profusely, it is also gathering operational experience while learning to contend with complex fronts, employ large military frameworks and function in an extended operation, as opposed to its relatively brief "rounds" against Israel. Given the current state of affairs, many people in Israel ask themselves what would happen if clashes between Israel and Hezbollah break out while the Russians still hover over the front with considerable strength. What will happen to all of Israel's meticulously constructed plans for war, in which the IDF would employ unprecedented force in Lebanon in order to end the fighting as quickly as possible? Will the Russians allow such a scenario to unfold?
It is safe to assume that this very issue is the focus of the discussions taking place in Israel's Northern Command, but also in the Israeli Cabinet. Evidence of this can be found in the large number of exercises and drills the IDF has recently conducted in the north.
Slowly, gradually, Russia managed to stay beneath the radar as
it returned to the Middle East
. The Soviet Union had a massive presence in the region, and especially in Egypt and Syria, in the years between the Six-Day War and the Yom Kippur War (1967-1973). This posed a serious threat to Israel. This presence disappeared with the breakup of the Soviet Union, with the United States emerging as the sole power of influence in the region. Now history is repeating itself. Jerusalem is trying not to talk about it openly, but when an enormous bear is sitting right next to you in a crowded space, it is just about impossible to ignore it — especially when that space happens to be a china shop.