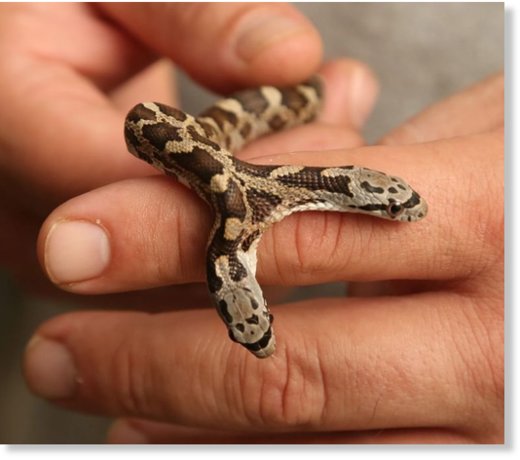 A two-headed Texas rat snake has joined Cameron Park Zoo's collection, officials announced this week.
A McLennan County resident discovered the 8-inch-long rat snake at her home within the past two weeks when her dog started chasing something under her front porch, said Brian Henley, an amphibian and reptile care supervisor at the zoo. After looking for what her dog was after, the woman saw the two-headed creature and called the zoo.
"Her dog found it, and it was probably just recently hatched. It's probably only about 6 to 8 weeks old now," Henley said. "She brought it in, and we were really surprised by it, because as long as I've been here, we've never had a two-headed animal at this zoo. This is pretty exciting for us."
Cameron Park Zoo unveiled the new addition to great fanfare this week with social media posts, spokeswoman Duane McGregor said. The zoo plans to determine the sex of the snake and host a naming contest on social media, presumably for two names, McGregor said.
Texas rat snakes, which are medium to large constrictors, primarily feed on rodents and birds and can grow to more than five feet long and live about 25 years, Henley said.
The newest addition to the herpetarium will remain quarantined for about 90 days, allowing the snake to mature before it is put out on display in the Brazos River Country exhibit with native Texas species.
Henley compared the snake to conjoined twins. The snake has the same body, stomach, liver and other vital organs, he said. Because rat snakes rarely eat or attack other snakes, he said there is not much concern that the heads will attack each other.
Employees feed only one head once a week with a baby mouse.
"In speaking with people who have raised two-headed snakes, typically one head eats while the other head drinks," he said. "This snake is still young, so we will monitor it every feeding time."
Survival chances of a two-headed snake outside of captivity are typically low, Henley said. Although rat snakes are no threat to humans, other predators can find a two-headed snake to be an easier target.
"If a predator is going to attack a two-headed snake, oftentimes one head will go one way and the other head will go the other way, so the snake doesn't really go anywhere," Henley said. "It probably would not have a good chance of making it on its own. We are going to continue to monitor it and make sure it is developing properly so it can grow."
There is no set date for when the snake to go on public display. Guests can visit Cameron Park Zoo's Facebook page for updates at
www.facebook.com/cameronparkzoo/.