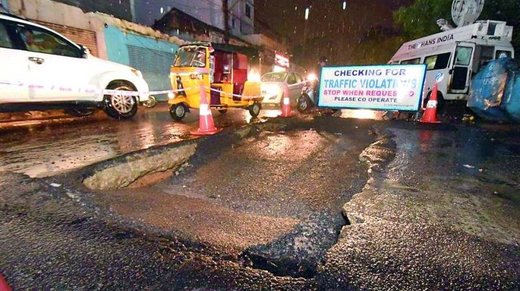 Three more sinkholes opened up on Thursday, taking the total to five after just two days of rain. A one-metre diameter sinkhole opened up on the road opposite HDFC Bank in Basheerbagh and another one on the road at King Koti.
Earlier in the day, a four-foot deep sinkhole formed on the Shivam Road near Amberpet on Thursday, the third after two days of rain following the ones on NTR Marg and at Neredmet.
A tanker-trolley got stuck in the Shivam Road sinkhole at about 6 am on Thursday, and was cleared using two large cranes at about noon. The accident caused a massive traffic jam and congestion along the busy road from Osmania University to Amberpet. Traffic police barricaded the sinkhole, even as emergency repairs were being undertaken.
At Basheerbagh, Narayanaguda traffic inspector A. Balaji said he and his team had barricaded the sinkholes. "The road at Basheerbagh is a busy route. We have diverted traffic from one side of the road. GHMC and water works officials will begin repairs from Friday morning," he said.
About the massive NTR Marg sinkhole that had opened up on Wednesday, Sewerage and Water Board MD M. Dana Kishore said six teams had been set up to reduce water flow into the site.
Emergency response teams have been posted at the sinkhole itself. Infrastructure Repairs will begin after the flow of water stops. Another sinkhole had opened at Neredmet on Wednesday.