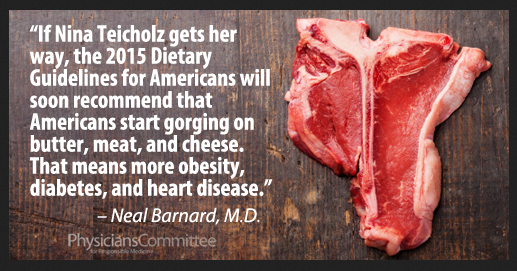 A
controversial article
questioning the science behind the U.S. Dietary Guidelines that appeared in the British Medical Journal a year ago today won't be retracted, its author, Nina Teicholz, tells MA. "The BMJ has informed me, in writing, that they have made the decision not to retract the article," Teicholz said in an email.
Teicholz said she was notified of the publication's decision after it conducted a months-long review, which came in response to 180 scientists asking the journal for a retraction. In recent days, health advocates had been pressing BMJ about the status of its review.
Teicholz's article argued the government used weak scientific standards to develop the guidelines, leaving them
"vulnerable to internal bias as well as outside agendas."
Teicholz, author of
The Big Fat Surprise
, has fiercely questioned the conventional nutrition wisdom on fats —
even suggesting that high-fat diets could be the key to a healthier lifestyle.
The Center for Science in the Public Interest, which led opposition to the article, accused Teicholz of launching a "distorted and error-laden campaign against the Dietary Guidelines Advisory Committee report."
BMJ issued
a correction
a month after the article ran. Fiona Godlee, the journal's editor-in-chief, did not respond to MA's requests for comment on Thursday.