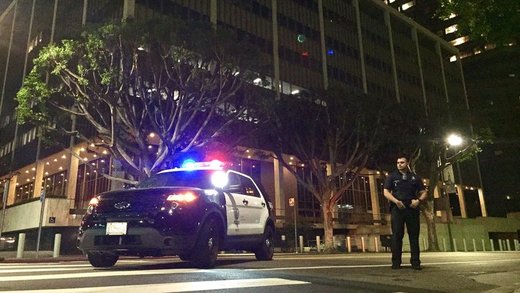 A suspicious duffel bag left outside the Edward R. Roybal Federal Building in downtown Los Angeles prompted the arrival of a police bomb squad and the closure of some downtown streets, authorities said.
An unidentified man was seen dropping off a duffel bag about 8:15 p.m. outside the building, which houses a federal courthouse and offices for the U.S. Marshals, among other agencies, according to Officer Jenny Houser of the
Los Angeles Police Department
.
The LAPD's bomb squad was called to the building in the 200 block of East Temple Street, and found the bag did not pose a threat.
The bag contained personal items, police said.
Employees inside the building were evacuated, Houser said. Police closed Temple Street between Alameda and Los Angeles streets and Judge John Aiso Street between 1st and Temple streets.
The building is near a cluster of government offices and facilities, including a federal detention center and the LAPD's downtown jail.